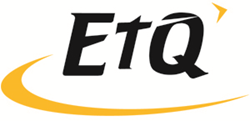 We believe that tracking compliance should be available to all markets, regardless of size. EtQ is accomplishing this goal through our Enterprise Reliance product, our mid-market product, VERSE, and now through our free application in traqpath
Farmingdale, NY (PRWEB) May 10, 2016
EtQ will be showcasing its free application for Compliance Events and Corrective Action Tracking at the 2016 World Conference on Quality and Improvement (WCQI) on May 16th to May 18th in booth 819.
Attendees will learn how to drive collaboration and gain control with traqpath for both small and large businesses. traqpath allows business to:

Launch Compliance Events and Action Items
Track progress and generate reports
Organize compliance data
Archive and search on compliance events
Collaborate with others within a specific workgroup on compliance events
Extend compliance to unlimited external stakeholders, such as suppliers and customers
"EtQ is looking forward to showing the ASQ community the power of traqpath," states Glenn McCarty. "We believe that tracking compliance should be available to all markets, regardless of size. EtQ is accomplishing this goal through our Enterprise Reliance product, our mid-market product, VERSE, and now through our free application in traqpath."
You can access traqpath over the Web or on your mobile device through the App Store or Google Play. Learn more about traqpath by visiting http://www.traqpath.com or by subscribing to the blog.
About traqpath
At traqpath, we understand that compliance is everyone's business—this is why we focus on making compliance easier and more attainable for companies like yours. Using traqpath, you can simplify the way you manage compliance through enhanced collaboration, visibility and greater control over your processes. With our simple Mobile and Web applications, traqpath ensures compliance and dramatically increases your reporting efficiency. We're passionate about helping the world meet top compliance standards and we think that after using traqpath you will be too!
About EtQ
EtQ is the leading EHS, Quality and Operational Risk and Compliance management software provider for identifying, mitigating and preventing high-risk events through integration, automation and collaboration. Founded in 1992, EtQ has always had a unique knowledge of EHS, Quality and Operational Risk and Compliance processes, and strives to make overall quality operations and management systems better for businesses. EtQ is headquartered in Farmingdale, NY, with main offices located in the U.S. and Europe. EtQ has been providing software solutions to a variety of markets for more than 20 years. To learn more about EtQ, visit http://www.etq.com or blog.etq.com.