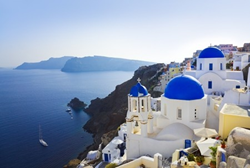 New York, NY (PRWEB) May 06, 2016
The International Yoga Teacher Training schoo l will be returning to Pelagos Hotel & Resort on the north end of the island close to the town famous for its sunsets, Oia. This all inclusive yoga training retreat will run from July 17th- August 10th 2016.
"We continue to have an amazing experience in Greece, we just can't stay away" says Co-Founder Carri Uranga "The extremely hospitable staff, stunning location and the garden to table fresh Greek food all make this yoga training one of the best!"
"The timing works out perfect for people to delve into their Yoga studies." Explains Co-Founder Sarah Walsh. "We found last year many school teachers and students used this opportunity in the summer to combine travel and personal development."
The summer Yoga Teacher Training sold out last year in Greece and is anticipated to sell out again. The training will be kept with under 20 students to allow for personal attention.
About Drishti Yoga Teacher Training
Discover the impact of intimate personal attention combined with focused training in exotic locations with Drishti Yoga Teacher Training. Combine your passion for Yoga and your love of travel to create a transformative experience on and off the mat.
Upcoming trainings and retreats will be held in Portugal from July 4 - July 17th 2016 and Santorini, Greece from July 17th - August 10th 2016 and Napa Valley from August 26th- September 2nd 2016. For detailed information on these trainings and to find how else Drishti is making a ripple effect in the Global Yoga Community visit us at http://www.drishtiyogateachertraining.com