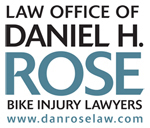 San Francisco, California (PRWEB) May 07, 2016
In celebration of National Bike Month, the Law Office of Daniel H. Rose is proud to be a sponsor of both San Francisco's and the East Bay's Bike To Work Day (BTWD), May 12, 2016.
On BTWD, many thousands of people of all ages and from all walks of life experience the joy, health, and environmental benefits of bicycling to work, which for some involves shedding their normal sedentary and polluting modes of transportation. Once experienced, many continue bicycling to work thereafter, benefiting their health, the community, and the planet.
San Francisco's BTWD is organized by the San Francisco Bicycle Coalition (SFBC), which is one of the country's oldest bicycle organizations. For over 40 years, the SFBC has been transforming San Francisco streets and neighborhoods into more livable and safe places by promoting the bicycle for everyday transportation. They are one of the largest and most effective bicycle advocacy groups in the country. Through their day-to-day advocacy, education and working partnerships with City and community agencies, the SFBC creates safer streets and more livable communities for all San Franciscans.
The East Bay's BTWD is organized by Bike East Bay, an extremely successful bicycling advocacy organization. The mission of Bike East Bay is to promote healthy, sustainable communities by making bicycling safe, fun and accessible. Through advocacy, education, and community involvement, it tirelessly works to support the development of a vast and seamless network of bicycle facilities, cultivates bicycle and people friendly street design, increases funding for bicycle projects and improvement, educates the public through partnerships with law enforcement, schools, employers, riding clubs, and others, and increases awareness and appreciation of bicycling.
The Law Office of Daniel H. Rose is a personal injury law firm which represents injured bicyclists and pedestrians throughout Northern California, with more than three decades of experience. Attorney Daniel Rose is one of the most prominent San Francisco Bay Area bike injury attorneys. Mr. Rose is a longtime supporter of bicycle advocacy groups and has personally helped thousands of cyclists and their families.
LAW OFFICE OF DANIEL H. ROSE
One Sansome Street, Suite 3500
San Francisco, California 94104
Tel: (415) 946-8900 Fax: (415) 221-0892
danrose(at)danroselaw(dot)com