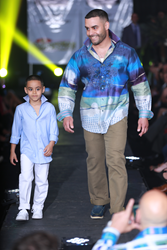 "We admire Eva's programs and their focus on giving back to the community, which matches our company's mission." Juan Alvarez, BAE's Director of Human Resources
Paterson, NJ (PRWEB) May 05, 2016
Eva's Village is pleased to announce BAE Systems as the Event Sponsor of our upcoming 'Behind the Seams' Fashion Show. "We admire Eva's programs and their focus on giving back to the community, which matches our company's mission--'We protect those who protect us'--which extends to support those in need," stated Juan Alvarez, BAE's Director of Human Resources. Located in the Wayne-Totowa area, BAE has provided ongoing support to Eva's Village for the past five years; employees volunteer regularly in a number of Eva's programs.
The fundraiser will be held at Bottagra Restaurant in Hawthorne, NJ, on Monday, May 23 at 5:30 pm. Single tickets and tables are still available. For more information, please visit the event page. Several other local businesses have already joined BAE to support the event.
Founded and hosted by Sal Lauretta for Men, The DSM Group, and Bottagra Restaurant, the yearly event attracts more than 300 guests and raises critical funds to support the 20 integrated anti-poverty programs of Eva's Village. "We at Sal Lauretta for Men are deeply thankful for all the great work done on a daily basis at Eva's Village," explained Ralph Lauretta, 'Behind the Seams' Co-Chair. "It gives us great pleasure to run this event on their behalf. We are all looking forward to our most successful event ever," he stated.
The evening's entertainment will feature a tented runway fashion show, a cocktail hour, seated dinner, wine tasting, and silent and live auctions. This year, two celebrity fighters--professional boxer and Paterson native Caleb Hernandez and Mixed Martial Arts star Jimmie Rivera--will doff their gloves to don the latest fashions on the runway. They will join local models to showcase new styles by Sal Lauretta for Men, Robert Graham and Boutique 811.
BAE's Partnership with Eva's Village
BAE Systems' partnership with Eva's Village has grown since 2011, when three employees began volunteering in the Community Kitchen. BAE's engagement includes grant support for education at Hope Residence where children live with their mothers who are in treatment, meal sponsorships and volunteer participation through Eva's Fund-A-Meal program, and donations of food, furniture, clothing and school supplies. BAE employees also volunteer regularly in Eva's Workforce Development Program, conducting mock job fairs for Eva's clients.
"Eva's has become a preferred charity at our local site," noted Juan Alvarez, BAE's Director of Human Resources. In addition to generous corporate support and encouraging employees to volunteer individually or as a team, BAE matches employee donations up to $10,000 per year, per employee. In 2015, the British multinational defense, security and aerospace company contributed over $20 million to local, national and international charities and nonprofits.
More about BAE Systems
BAE provides some of the world's most advanced, technology-led defense, aerospace and security solutions and employ a skilled workforce of 83,400 people in over 40 countries. Working with customers and local partners, BAE develops, engineers, manufactures and supports products and systems to deliver military capability, protect national security and people and keep critical information and infrastructure secure.
More about Eva's Village
For more than 30 years, Eva's Village has worked to carry out its mission to feed the hungry, shelter the homeless, treat the addicted, and provide medical care to the poor with respect for the human dignity of each individual. Eva's Village helps thousands of individuals rebuild their lives each year through 20 integrated programs addressing needs in the community for Food & Housing, Medical & Recovery Services, and Education & Training.
Founded by Msgr. Vincent E. Puma in 1982, Eva's Community Kitchen began by serving 30 meals a day in Paterson, NJ. In response to the issues of hunger, addiction and homelessness in the community that program grew to become Eva's Village, a non-profit social service organization that is one of the most comprehensive in New Jersey. Eva's Village programs are located in an area that spans several city blocks in downtown Paterson. Since an expansion in 2011 Eva's now serves nearly 400 meals a day to guests, in addition to meals for clients living in Eva's shelters and recovery programs, delivering more than 400,000 meals each year to those in need.