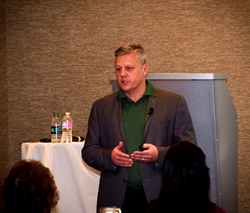 It is our priority to see practices succeed in this highly competitive industry. This is why we provide exclusive programs that allow our members to stay on top while maintaining high standards in patient care. -Ed Keller, President of EarQ
Chicago, IL (PRWEB) May 06, 2016
From May 4 to 6, EarQ and Signia co-sponsored a member training event in Chicago, IL, offering EarQ members the unique opportunity to learn more about Signia's technology and the successful business and marketing techniques that make EarQ a primary resource for independent practice growth.
"It is our priority to see practices succeed in this highly competitive industry," said Ed Keller, president of EarQ. "This is why we provide exclusive programs that allow our members to stay on top while maintaining high standards in patient care."
Thrive events are an exclusive benefit of EarQ membership and include insight on strategies proven to grow practices through new patient referral pathways, better patient retention, and improved business efficiencies. Additional EarQ Thrive events are scheduled throughout the remainder of the year. A full schedule from EarQ is available upon request.
About EarQ:
A prestigious nationwide network of independent hearing healthcare providers, EarQ utilizes innovative business and marketing practices as well as national public awareness efforts to advocate for excellence in the industry and patient care. Through its 1,400 hearing healthcare provider locations nationwide, EarQ helps provide greater access to quality hearing healthcare services and products.