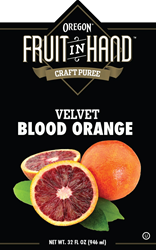 "Blood Orange Fruit in Hand delivers year-round access to this highly seasonal fruit in an easy-to-use format; ready to thaw and use immediately. Simply pour, stir and enjoy." -- Becky Westby, director of foodservice for Oregon Fruit Products
Salem, Ore. (PRWEB) May 09, 2016
Oregon Fruit Products today announced a new Fruit In Hand flavor for the beverage and culinary industry: blood orange velvet, a smooth puree of red-orange colored blood orange juice and pulp with sweet notes reminiscent of navel oranges, but also a tinge of bitterness and acidity.
"From independent restaurant chefs to international food brands, the foodservice world is looking for new ways to offer bright, creative flavors that are more complex than just sweet or savory," says Becky Westby, director of foodservice and ingredients sales for Oregon Fruit Products. "Blood Orange Fruit in Hand delivers year-round access to this highly seasonal fruit in an easy-to-use format; ready to thaw and use immediately. Simply pour, stir and enjoy."
Within the Oregon Fruit Products' test kitchens, the research and development staff has created on-trend applications with the newest puree in creations such as a blood orange fennel salad, and a blood orange and shrimp stir fry. For more ideas on how to use Blood Orange Fruit in Hand, or any of the 11 other flavors, please visit http://www.fruitinhand.com.
Oregon Fruit Products will be sampling a wide selection of drinks and dishes made with Blood Orange Fruit in Hand and other flavors at booth #2485 the National Restaurant Association show, May 21-24, 2016 in Chicago.
About Fruit in Hand
2015 FABI-award winner Fruit in Hand is made by hand-selecting fresh fruit picked at the peak of ripeness. It is manufactured using a cold process to maintain the vivid flavor and color of the fruit and lightly sweetened with cane sugar to enhance the fruits' natural sugars. It contains no artificial flavors or colors, no high fructose corn syrup and has less sugar per serving than fruit syrup or jam. It is certified Kosher, gluten-free and is non-GMO. Using Fruit in Hand couldn't be easier: it ships frozen in 35 fl. oz. bottles, defrosts within hours under refrigeration, and stays fresh for up to two weeks.
Oregon Fruit Products LLC
Founded in 1935, Oregon Fruit Products offers a complete line of canned, frozen and shelf-stable premium fruit for consumers, foodservice operators and ingredient sales. The company is located in Salem, Oregon and can be found on the web at http://www.oregonfruit.com.