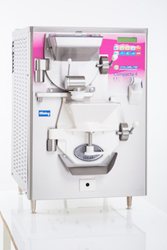 Adding the Compacta 4 to our already impressive line of batch freezers allows us to offer a solution for every need and budget.
Greensboro, NC (PRWEB) May 09, 2016
Advanced Gourmet proudly introduces the new Coldelite Compacta 4 to the United States.
The Compacta 4 is the first countertop, multi-functional batch freezer capable of producing full 5 liter pans of gelato, ice cream and sorbets.
With its single phase, air cooled system, the Compacta 4 is especially suited for the professional gelato or ice cream shop and a welcomed addition to any modern professional kitchen. No water connections needed.
"Adding the Compacta 4 to our already impressive line of batch freezers allows us to offer a solution for every need and budget. Professional gelato shops and Chefs in the modern kitchen will find the Compacta 4 a powerful and convenient tool for the production of delicious gelato, ice cream and sorbet." Says Jim Hall, co-owner of Advanced Gourmet.
Standard Features of the Coldelite Compacta 4:

Top cylinder mixes and heats; just add ingredients while the bottom cylinder freezes – all simultaneously
Patented external transfer system between top and bottom cylinder
Small footprint and efficient utility requirements
Electronic control panel/single touch pad design
Flexible sprayer to cleaning the cylinder
Front lids with safety devices for cylinder opening
UL-NSF
Easy to remove beater with Delrin blade
Visit AdvancedGourmet.com to learn more about the Coldelite Compacta 4 and other advanced equipment solutions for the modern professional kitchen.
About Advanced Gourmet
Advanced Gourmet was founded and is led by three foodservice equipment industry innovators, Jim Hall, Jim Marmion and Wally Becker with a primary goal of providing the most advanced equipment solutions and services for the professional kitchen and specialized applications throughout the United States. Advanced Gourmet is the exclusive importer and distributor for Hotmix, Pacojet, Techfrost, Cattabriga and Ciam within the USA.
This founding team served in executive and managerial positions with well-known manufacturers of equipment designed for the food service industry and the modern kitchen. Their vast experience creates the foundation for their passion to provide expert guidance, high quality products, and superior, high quality support to all their clients.
Serving as the exclusive importer of fine brands like the Coldelite, Advanced Gourmet has built the most prestigious line of specialty kitchen equipment available in the USA. http://www.AdvancedGourmet.com
About Coldelite
Coldelite is part of the ICETEAM brands which also includes Cattabriga and Masterchef, all part of the Ali Group. The ICETEAM brands consist of a group of products that have been leaders in gelato, soft, frozen desserts and the pastry making industry since 1927. The ICETEAM brands represent an unmatched and wide range of products thanks to diverse traditions and quality production. All ICETEAM equipment is produced in Bologna, Italy which is the birth place for the modern day gelato equipment worldwide.