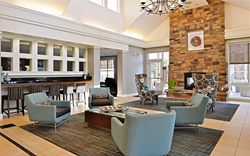 Loveland, Colo. (PRWEB) May 05, 2016
Residence Inn by Marriott Loveland welcomes experienced, avid cyclists to Loveland and Northern Colorado this spring and summer to experience all that the region offers in mountain biking. Trails have opened already for the season, so cyclists are encouraged to plan their trip now. Featured rides include Blue Sky to Indian Summer, Ginny Trail via Powerline Trail, Lory State Park Small Loop and Horsetooth Mountain Park/ Lory State Park Tour. Residence Inn Loveland is located within easy biking distance to the best trails in Loveland and Fort Collins.
For more information and to map the best trail, please visit http://www.mtbproject.com/directory/8007426/fort-collins.
Residence Inn by Marriott Loveland is an ideal home-away-from-home for business and leisure guests with comfortable guestrooms, great amenities and a convenient location. All guestrooms include HDTV, fully-equipped kitchen, comfortable bed and much more. Accessible guestrooms are available upon request. Hotel amenities feature: free hot buffet breakfast daily, complimentary Wi-Fi, on-site laundry, outdoor sports court, indoor pool and much more. Residence Inn by Marriott Loveland is located near I-25.
For reservations and more information on the Residence Inn by Marriott Loveland hotel, please visit http://www.residenceinnloveland.com or call (970) 622-7000. Residence Inn by Marriott Loveland is proudly managed by Stonebridge Companies in Denver, Colo.
Founded in 1991 by Navin C. Dimond, Stonebridge Companies is a privately owned, innovative hotel owner, operator and developer headquartered near Denver, Colorado. Its diverse listing of properties includes select-service, extended-stay, mid-scale and full-service hotels in markets throughout the U.S. For detailed information, visit our website at http://www.sbcos.com.