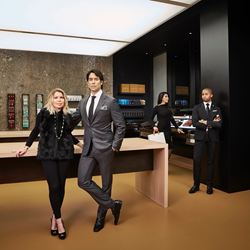 Washington, DC (PRWEB) May 06, 2016
For the first time anywhere, SHERBER+RAD brings together an uncompromising expert edit of the ultimate in skincare, beauty, and fragrance as chosen by their founding board-certified dermatologist (Noëlle Sherber, M.D., F.A.A.D.) and plastic surgeon (Ariel Rad, M.D., Ph.D.) to represent the best of the best from around world.
Sunscreens and makeup with SPF should be replaced annually to keep skin and hair protected from summer sun, and this is the ideal time for a seasonal update to your fragrance and makeup. We have many new launches that are perfect for the season, from TOM FORD's Soleil Collection, to La Mer's summery-fresh Perfecting Treatment, to Dr. Sherber's new tinted mineral serum sunscreen collaboration with Soleil Toujours. We want to show our appreciation to our clientele with this exclusive event, and also to encourage everyone to stock up on sun protection in May (Skin Cancer Awareness Month).
Guests will enjoy:

Receiving deluxe gifts with purchase
Earning up to a $500 gift card that can be redeemed for product or for services
Sipping on antioxidant-rich fresh Summer Sparkling Sangria that pairs with this season's key new antioxidant-rich products
Relaxing at our TOM FORD BEAUTY Lip+Nail Bar stocked with customized selections by Enrique Valentino, SHERBER+RAD's Makeup Artist in Residence and Boutique Director, who will consult with you and apply a summer-perfect lip color for you
Having Dr. Sherber's personal manicurist on hand for complimentary professional mini-manicure in a coordinating color
RSVP: rsvp@sherberandrad.com or to learn more, visit our Website
About SHERBER+RAD
Noëlle S. Sherber, M.D., F.A.A.D. is a Harvard educated, Johns Hopkins trained board certified dermatologist. Ariel N. Rad, M.D., Ph.D. is a Princeton and Duke educated, Johns Hopkins trained board certified plastic and reconstructive surgeon. In 2011 as a husband and wife team, they created SHERBER+RAD, Washington DC's premier destination for the best of dermatology, plastic surgery, aesthetics, skin care and beauty. The SHERBER+RAD boutique is the first in the world to feature collections of products, edited by board certified physician experts, from the most elite international brands in skincare, cosmetics and haircare. Product collections are carefully selected, assembled and continually updated by Drs. Sherber and Rad for their high quality, results-oriented ingredients. The SHERBER+RAD team focuses on the patient and client experience. Highly trained staff are experts in product knowledge and service and will customize beauty recommendations for each patient and each client.