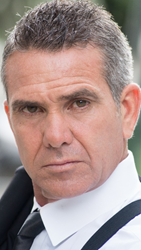 "Since my very first day on a movie set three years ago, I have worked very hard and refused to give up, even when the odds were not in my favor."
Amsterdam, NLD (PRWEB) May 10, 2016
This summer, Bradley Bowen, the former construction worker who began acting just three years ago at the age of 44, will appear in feature film, Out for Vengeance.
Currently filming in various locations around the Netherlands, Out for Vengeance, is a visual action thriller centered around courage, brotherhood, and revenge between borders, directed by and starring Salar Zara.
Bowen will play Viktor Romanov, a powerful Russian cartel leader with his eye on taking over the European narcotics market. Engaged in a turf war with rival drug cartel leader, SCARF, Romanov's character is described as "ruthless" and "willing to stop at nothing to get what he wants."
Though the emerging actor has an impressive number of major motion picture featured roles under his belt, including Miracles from Heaven, Ant-Man,The Hunger Games: Mocking Jay - Part 2, and Furious 7, the Russian gangster will be Bowen's largest role to date.
Bowen considers himself very fortunate to have achieved this level of success so quickly, but he attributes it primarily to good old-fashioned hard work.
"I'm where I'm at today because of determination," explained Bowen. "Since my very first day on a movie set three years ago, I have worked very hard and refused to give up, even when the odds were not in my favor."
Bowen is a skilled martial artist. He practices Jiu Jitsu and holds a black belt in Karate. His extensive martial arts background was one of the many reasons he was chosen for this film.
Like numerous big names before him, Bowen does not have a formal acting education, and prefers to develop his craft through hands on experiences including performing in indie films, attending workshops, and observing more experienced actors on set. In preparation for this role, Bowen invested in one-on-one acting and dialogue coaching.
"While I've taken all of my previous roles seriously, I felt Out for Vengeance was a great opportunity to continue to hone my skills," Bowen added. "I'm currently working with a professional Russian opera singer to perfect my accent, and a renowned acting coach to help me fully develop Romanov's character."
Out for Vengeance will debut in the Netherlands July 2016 and is slated for international distribution.
To learn more about Bradley Bowen, visit his official website, bradleybowenofficial.com.
ABOUT BRADLEY BOWEN
Bradley Bowen is a 47-year-old construction worker-turned-actor who began pursuing his dream to be an actor just three years ago. Working his way up from an extra, Bowen has appeared as a featured actor in hit-movies and television shows including, The Hunger Games: Mocking Jay - Part 2, Divergent, Insurgent, Furious 7, Tomorrowland, Devious Maids, and Drop Dead Diva. Bowen is currently working on feature film, Out for Vengeance. Bowen lives in New Smyrna Beach, Florida with his wife Aimee and daughter Jayden. To learn more about Bowen, and follow his rise to the top, visit bradleybowenofficial.com and follow him on Facebook. He is currently represented by Creative Management Group (CMG).