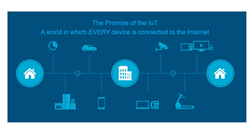 Gatineau, Quebec (PRWEB) May 11, 2016
Building on momentum in the enterprise market, becoming an Microsoft Azure IoT Red Carpet member helps to further establish Macadamian as an Internet of Things solutions provider.
"Macadamian is proud to have been selected as a Canadian partner. Membership in the IoT Red Carpet Program recognizes our long standing partnership with Microsoft in developing mobile, social, and enterprise solutions. We are thrilled to be able to continue to do so with Azure, one of the leading cloud platforms today." Timon LeDain, Director, Internet of Things, Macadamian.
As companies look to transform their businesses to become more digital and services oriented, Macadamian is architecting end-to-end IoT solutions to deliver on the promise of driving new customer engagement models, growing revenues, and achieving operating efficiencies. All of our IoT solutions are hosted on Azure and benefit from deep cloud integration for data collection, analysis, and insights.
Microsoft has been instrumental in helping companies migrate their operations to the cloud, enhancing their application performance and resilience and ensuring scalability. By leveraging the high availability of the Azure cloud infrastructure, Macadamian's clients are able to consolidate and migrate disparate IT systems and pay down "technical debt."
Through this program, Macadamian gains access to exclusive Microsoft resources including engineering, marketing, and business investment funding. We also join a community of partners that together can advance and evolve the Internet of Things to the next level.
"We look forward to continuing our partnership with Microsoft and passing on the benefits of this program to our clients." Frederic Boulanger, CEO Macadamian.
About Macadamian (http://www.macadamian.com)
Macadamian is a full service software design and development firm. From product ideation to market ready – and everything in between, we provide a complete range of usability, design and engineering services. From big consumer brands to enterprise, telecom, and healthcare; our solutions are founded in research-informed design first while leveraging the cloud, big data, and Internet of Things to deliver context-aware and adaptive experiences. Macadamian is headquartered in Gatineau, Canada and also has offices in the United States, Armenia, and Romania. Visit http://www.macadamian.com or contact via phone at +1 877 779 6336.
###
SOURCE MACADAMIAN TECHNOLOGIES
For further information:
Macadamian contact:
Vani Edwardson
Vice President, Marketing
Tel: +1 819 772 0300
Email: vedwardson(at)macadamian(dot)com