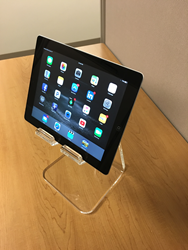 Gorgeous and perfectly designed tablet stand for home and business
Shelton, Connecticut (PRWEB) May 07, 2016
Finally, an absolutely stunning craftsmanship and highly functional clear acrylic tablet stand (3/8" thickness!) from PLEXISTANDS® made in the USA.
PLEXISTANDS® will accommodate any tablet and is designed at the perfect angle and height for viewing either sitting at desk level or standing. Perfect steady stand for Skype or Face Time. Rear cut-outs accommodate charging cords.
One-piece construction -no bonded or glued joints and "museum quality" manufacturing.
**Bonus health benefit with reduced neck and back straining to view tablet!
Ideal for:
Business/Office/Conference rooms
Standing and Sitting Desks
Corporate desks and lobbies
Hospitals
Doctor Offices
Schools
Restaurants
Hotels
Home/Kitchen/Entertainment Rooms
Car Dealerships
Real Estate Offices, and so much more!
Features:
Made from beautiful ultra violet light protected acrylic.
One-piece construction -no bonded or glued joints.
Perfect for Skype or Face Time.
Designed at the precise angle fit for sitting at desk or standing.
Elegant appearance and design!
Comes with four (4) clear rubber bumpers to elevate stand if desired. Please follow care and cleaning instructions included with shipment.
Visit http://www.plexistands.com to order and for more information.