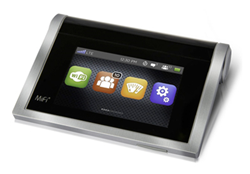 We look forward to the future of TruConnect data plans, and making it easier for users to stay connected.
Los Angeles, CA (PRWEB) May 19, 2016
TruConnect released its newest mobile hotspot, the Novatel MiFi 2. This hotspot features a touchscreen panel with customizable options allowing customers to make this hotspot truly theirs. The new device comes with a deal too good to miss: a free 30-day trial. With the recent launch of updated, affordable data plans, TruConnect aims to provide customers with the opportunity to try the service absolutely free with select plans.
Available today, the Novatel MiFi 2 connects up to ten devices to the nationwide 4G LTE high-speed network. The hotspot has a long lasting battery life of up to 16 hours and adjustable Wi-Fi coverage up to 30 feet that allows the user to streamline their connection. The 2.8-inch color-capacitive TFT touch screen walks the customers through an easy-to-use interface where they can check their connection, view their messages, adjust their settings, and more.
The free 30-day trial can include up to 1 GB of data. Users will have the option to continue the monthly plan, switch to another plan, or cancel completely before the 30-day trial expires. With the free trial, customers can get 30 days of data and the new Novatel hotspot for only $59, which is 40% off of the regular hotspot price.
"This is a great milestone for TruConnect. We are selling our data plans with our red-hot new Novatel GSM device. That means a customer doesn't buy a device and wait weeks before selecting a plan. They can buy a hotspot and a data bundle from the start," says Darren Levy, VP of ecommerce. "We look forward to the future of TruConnect data plans, and making it easier for users to stay connected."
To purchase the Novatel MiFi 2, visit http://www.truconnect.com/english/shop/internet/internet-devices.html