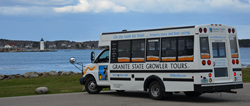 Where there's good beer, you'll find good people – brewing it and enjoying it!"
Portsmouth, NH (PRWEB) May 09, 2016
It's been three years since New Hampshire's first and only craft beer tour bus rolled up to its first brewery, and now Granite State Growler Tours is celebrating its anniversary with more buses, new brewery stops and all new expansion tours in the state.
"We started off small, as did many of the breweries we visit. They've grown, we've grown, and we're just happy to be a part of a family of small businesses that are working together and making some amazing beers and spirits," says David Adams, owner and founder of Granite State Growler Tours.
"When we first began our tours, back in April of 2013, we only had four different locations we could go to on any given tour. That's it. Just four," Adams explains. "Now, hundreds of tours and thousands of passengers later, we're visiting more than twenty-four different locations, as far north as York, Maine, down to Newburyport, Massachusetts, and all throughout the seacoast of New Hampshire. The craft beer industry has just exploded all around us, and is expanding all the time."
Adams appeared to be in the right place at the right time In just a few short years, the Granite State has grown from just a handful of small craft breweries scattered around the state, to more than 50 such small business and counting.
With the upcoming arrival of both Liar's Bench and Great Rhythm Brewing Company in Portsmouth, as well as Four Pines Brewery in Hampton, three more craft breweries will be joining the thriving beer industry along New Hampshire's narrow coastline.
But with the arrival of their third anniversary, Adams says the coastal region is only the beginning.
"We're adding 2 more buses to our fleet this month, simply to keep up with the demand for tour requests here as it is. We want to accommodate everyone, and we need more buses and more employees to do that," he says. "Plus we have regular tours running to Dover now, and will soon have regular tours running to the greater Manchester area as well. We've visited that area in the past, they've got a great and growing beer scene just to the west of us there, and folks have been asking about it more and more. We really are looking forward to adding Manchester, Londonderry and the surrounding towns to our regular lineup."
"Right now we're in the process of getting our new buses ready to roll. First we have to name them," he says with a laugh. "We started off with one bus, 'Greta the Growler Getta,' and then added 'Hop Hunter.' As soon as we get the new buses decorated and named, we'll have them rolling out with the rest of the fleet."
According to Adams, over the past 3 years an estimated 4,500 guests have boarded the buses for tours to New Hampshire's local breweries, many of whom are out of state tourists bringing business to not only the local breweries, but to local restaurants and hotels as well. The team's hard work promoting beer tourism was recognized by the Greater Portsmouth Chamber of Commerce, winning the 2015 Business of the Year Award.
"When we started out, our primary goal was to just introduce people to these little start-up breweries and distilleries. They needed business and we wanted to do what we could to get people in the doors, show them what the craft beer industry is all about, create repeat customers, and have some fun doing it," Adams says. "I think we've succeeded on all accounts. People keep coming back again and again, and that's a testimony to the breweries and he brewers themselves. They're making some of the best beer in the world right here. Where there's good beer, you'll find good people – brewing it and enjoying it!"
Currently Granite State Growler Tours offers regularly scheduled tours on Fridays, Saturdays and Sundays, with private tours for corporate, birthday and other such social gatherings during the week.
To learn more about Granite State Growler Tours and the breweries that they visit, go to nhbeerbus.com or call 603.964.0284.