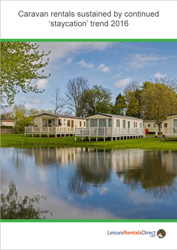 Over £1.8 billion was spent on UK caravan holidays in 2013, amounting to 51 million nights spent annually in caravans
Derby, Derbyshire (PRWEB UK) 9 May 2016
The term staycation came into use about the time of the economic downturn in 2009, and describes the trend for domestic holidays. This is a trend that shows no sign of subsiding and recent statistics illustrate the continuing British preference for holidaying at home. The static caravan rental market is a key beneficiary of this trend: in 2013 a total of 19% of overnight trips in the UK were in un-serviced accommodation including static caravans, motorhomes and holiday cottages.
Private caravan hire and motorhome hire website leisurerentalsdirect.com has commissioned an independent report which looks at the impact of the staycation trend on the caravan rental industry and also looks ahead to where the static caravan hire sector may be heading in 2016 and beyond.
This review of the staycation trend identifies key factors that are contributing to its ongoing importance.

The economy – consumers remain cautious about the UK's economic stability and are reluctant to 'splash out' on their holiday spending.
Ease of booking – the increased availability of online booking offered by independent rental booking platforms make the booking process for domestic breaks straightforward for consumers.
Convenience – remaining close to home, convenience for short breaks, and the ability to take the family pet on holiday are all important motivators in holiday selection.
The report assesses the extent to which static caravan ownership can be a business opportunity. With an estimated 51 million nights spent in hired caravans in 2013, and over £1.8 billion spent on caravan holidays, the report highlights the significant potential that exists for static caravan owners to at least cover the costs of their caravan ownership through rentals. This is an option supported by the National Caravan Council that has launched its Approved Holiday Park Home Ownership Scheme, introducing a code of practice and minimum standards for holiday park rental schemes.
Leisurerentalsdirect.com's report concludes by examining the leisure industry forecasts for 2016-2017. The figures from one specialist holiday accommodation rental platform demonstrate the continuing upward trajectory of the staycation trend, with bookings more than doubled for the first quarter of 2016. Consumers also look set to benefit as growing static caravan sales, leading to more static caravans available to rent, increases the choice available to UK.
***RELEASE ENDS****
Note to editors
leisurerentalsdirect.com is a UK based online portal for motorhome hire and rental and and static caravan hire and rental. The report referred to above ("Leisure caravan hire sustained by continued 'staycation' trend") is an independent report on the UK leisure accommodation sector commissioned by leisurerentalsdirect.com from researcher Dr Amanda Graham and is published freely on the leisurerentalsdirect.com website. It is being published at this time to provide an up to date snapshot of the industry at the start of 2016 and it part of the company's commitment to producing reports with a similar scope on a regular basis.
Press contact:
James Weston
Director
LeisureRentalsDirect.com
Tel: +44 (0)800 772 3526
info(at)leisurerentalsdirect.com