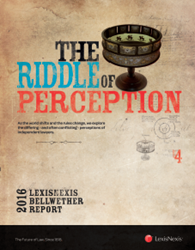 The report provides evidence of 'the grand delusion' – essentially, a culture that is out of tune with the market and a broken business model.
(PRWEB UK) 9 May 2016
LexisNexis UK report, The Bellwether Report: Riddle of Perception, reveals that 95% of independent lawyers and midsize law firms predict 'rough times' ahead. Despite a rise in confidence reported in The Bellwether Report last year, both confidence and performance have both dipped back to the levels reported in 2013/14.
The report suggests that the lack of confidence may be due to a distinct mismatch between lawyers' key challenges and the changes that have been implemented or are planned in the firm. 85% of lawyers agree that client demands are having as big an impact on working practices as regulations, yet only 40% of firms have taken on more staff to meet those demands. Taking on non-fee earners to help develop business/increase efficiency is also quite low on the list, even though a number of the main challenges faced by lawyers lie outside their skillset.
The Bellwether Report argues that clients want value for money: a good service at a fair price – not a cut-rate service at a cut-rate price. Lawyers have yet to fully absorb this distinction between price and value. The research shows that lawyers are three times more likely to rate the 'value' they offer as excellent/very good. Conversely, clients are seven-eight times more likely to rate it as average or poor. This difference stems from the fact that the two parties are using very different benchmarks to judge value.
"The recurring theme in this report is the expanding gulf between perception and reality for independent lawyers in a rapidly changing world. Specifically, it is about the growing disconnect between what lawyers value and what is important to their increasingly powerful client base," commented Jon Whittle, Market Development Director at LexisNexis UK. "The research indicates that independent law firms appreciate the need to constantly change and evolve, but the focus and business skills required to win often fall outside their traditional, professional training, experience and comfort zone of many of those gearing up for the future. Nevertheless, it's encouraging that the legal profession recognises the challenges it faces. It must now step out of its security blanket and embrace business practices, technology and new ways of working to overcome the issues with which it is confronted. It's a business imperative."
There is widespread recognition that traditional survival tactics won't be enough to weather the looming storm with 'continual evolution' being the new reality, harnessing technology is seen as a given. 92% believe that continued investment in technology is a must and no longer optional. Yet three technology-based initiatives – investment in processes/technology, website development, and using CRM technology – appear in the top six priorities of law firms, while convincing established lawyers of the need to modernise the practice ranks only 10th in the priorities list. With the latter widely seen as one of the major barriers to technology adoption, lawyers aren't tackling the problem at its roots.
Professor Stephen Mayson, independent advisor and non-executive director to law firms, said: "The report provides evidence of 'the grand delusion' – essentially, a culture that is out of tune with the market and a broken business model. Tinkering around the edges of the cost base and blaming others for the rest, rather than tackling some possibly uncomfortable home truths, will not address it and secure a sound future. But there is hope. The report also shows the correlation between growing, successful firms and other identifiable factors. The foundations lie in firms actually doing something about the fundamentals of their business through entrepreneurialism, thinking outside the legal box, focusing on client value and their experience of service delivery, specialisation, re-staffing, and the appropriate use of technology."
This Bellwether 2016 report is the fourth in the series and explores the current and future state of the legal landscape from the different – and crucially, differing – points of view of independent lawyers, midsize law firms, and sole practitioners. It examines their priorities, challenges, attitudes and appetite for change, uncovering some telling differences of opinion between lawyers and private clients. 122 independent lawyers and 108 clients were interviewed for this report.
The full report is available here: http://www.lexisnexis.co.uk/bellwether-report
###
About the Bellwether Report
The Bellwether Report series is an annual qualitative and quantitative research project, exploring the working lives of independent lawyers, small to midsize firms and sole practitioners. It aims to conduct a 'temperature check' into the changing landscape and showcase interesting themes, developments and trends.
About LexisNexis Legal & Professional
LexisNexis Legal & Professional is a leading global provider of content and technology solutions that enable professionals in legal, corporate, tax, government, academic and non-profit organisations to make informed decisions and achieve better business outcomes. As a digital pioneer, the company was the first to bring legal and business information online with its Lexis® and Nexis® services. Today, LexisNexis Legal & Professional harnesses leading-edge technology and world-class content to help professionals work in faster, easier and more effective ways. Through close collaboration with its customers, the company ensures organisations can leverage its solutions to reduce risk, improve productivity, increase profitability and grow their business. LexisNexis Legal & Professional, which serves customers in more than 175 countries with 10,000 employees worldwide, is part of RELX Group, a world-leading provider of information and analytics for professional and business customers across industries.
In the UK, LexisNexis (http://www.lexisnexis.co.uk) online legal solutions include: Lexis®PSL, Lexis®Draft, Lexis®Smart and Lexis®Library. Published resources include both Butterworths® and Tolley™.