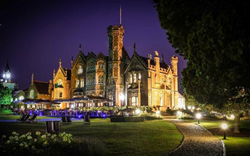 The new solution has a greater range of integration possibilities, including customised, hotel specific landing pages and post authentication marketing pages which provide a higher return on investment.
Theale, United Kingdom (PRWEB UK) 9 May 2016
The Oakley Court Hotel near Windsor has welcomed her Majesty the Queen as one of their guests and required a technology upgrade as decadent as their clientele. Quadriga recommended upgrading the current RF network and installing the latest Samsung Smart TVs, featuring Freeview HD channels, Samsung Smart Apps and Bluetooth Music Player that allows guests to listen to their personal devices within the hotel room through the TV speaker and any connected audio (e.g. bathroom speaker). As well as transforming rooms with the 40 and 48 inch displays, Quadriga also implemented their internet gateway product QConnect, for an all-round, seamless technology experience for both the hotel and its guests.
Tony Tizzard, Business Development Manager for Quadriga commented on the success of the project. "The new QConnect gateway solution from Quadriga allows the hotel to create a far more diverse range of custom Wi-Fi access codes with different bandwidth availabilities, so if necessary, hotel guests can be restricted to free internet at 4MB maximum and conference delegates could receive a higher bandwidth access code. The new gateway has a greater range of integration possibilities, including customised, hotel specific landing pages and post authentication marketing pages for a higher return on investment.
Sean Gleeson, Resident Manager at The Oakley Court added, "Investing in new kit for a hotel is always an ordeal but Tony and the Quadriga team communicated everything to us in our terms. We were very happy with how Quadriga considered the whole of the hospitality solution market and arrived with a competitive proposal with larger screens for the same price than we had been quoted previously. The installation of the 118 rooms went without a hitch and guests are now enjoying a great range of services in room."
==Ends==
About Quadriga
Quadriga is a leading international provider of guest technology managed services for the hospitality industry and our commitment is to maximise a customers' on-property value and guest satisfaction.
Quadriga provides customers with the flexibility and reassurance that they can obtain a complete, accessible and relevant guest technology solution that meets their business revenue, guest satisfaction and operational efficiency targets, all from a single, financially robust partner. Our value proposition is to provide technology solutions which enable customers to:

Connect with your guests – and guests with the hotel and their world
Control the guest experience and your network and TV environment
Commercialise new business and revenue opportunities
This value is delivered via a 360º integrated and managed service approach to design, build and manage a complete network and technology ecosystem focussed on the needs of hospitality and guests.
Quadriga offers a single point of contact for a range of managed services covering Networks, WiFi, Hospitality TVs, Interactive TV & Mobile platforms and Financial Services. These integrate multiple hardware and software components, proprietary to Quadriga or via 'best-in-class' partners, with an unrivalled range of multimedia content solutions and expert operational and professional services.
Quadriga has more than 30 years' experience serving the hospitality sector and operates in the key strategic geographies of USA, Europe, Middle East and Africa, supporting more than 300,000 guest rooms including 100,000 with HSIA. The company has unrivalled knowledge and approaching 15 years' experience in managing hotel networks, Internet provision, digital IP systems and delivering IP over coax networks.
Quadriga will continue to leverage its capabilities, its partnerships and deep knowledge of the hospitality sector to create solutions that harness the latest technologies and meet ever- evolving customer business needs and guest expectations.
For more information, please visit http://www.quadriga.com
Press Contact
Vicky Daniels
Group Marketing Manager
Quadriga
Telephone: +44 (0) 118 916 7181
E-mail : Vicky.Daniels(at)quadriga.com
Rory Flashman
Account Director
Spa Communications for Quadriga
Telephone : +44 (0) 1892 511413
E-mail : rflashman(at)spacomms.com