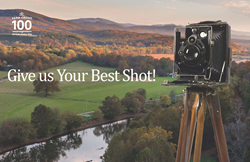 (PRWEB) May 07, 2016
The Farm Credit of the Virginias Calendar Photo Contest is open to the public at: http://www.farmcreditofvirginias.com – Members, employees, and friends of Farm Credit of the Virginias can submit photos via the website until May 31, 2016. Since the contest kicked off this past January, we've received a variety of excellent photo submissions. We encourage you to submit your photos prior to the deadline.
Those participating are allowed to submit up to three photos that have been taken within Virginia, West Virginia and/or Maryland. We're looking for images that include anything related to farming, ranching, country life and rural settings. All photo files must be at least 1MB in size. The top 3 photos will be featured in the 2017 Farm Credit of the Virginias calendar-- with the top 3 photos receiving gift cards for: $100.00, $75.00, and $50.00. Those selected to be featured, will also receive three copies of the 2016 calendar!
You can find the Calendar Photo Contest under the 'News' tab on our website. We look forward to seeing the photos you share! Give us your best shot!
Farm Credit of the Virginias provides over $1.7 billion dollars in financing to more than 10,000 farmers, agribusinesses and rural homeowners throughout Virginia, West Virginia and western Maryland. Farm Credit is a cooperative capitalized largely through investments made by farmers, ranchers and the rural homeowners and businesses that borrow from them. Farm Credit helps maintain and improve the quality of life in rural America and on the farm through its constant commitment to competitive lending, expert financial services and for facilitating and sharing knowledge and resources through the Farm Credit Knowledge Center. For more information, visit http://www.FarmCreditKnowledgeCenter.com or http://www.FarmCreditofVirginias.com.