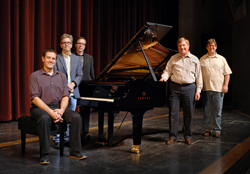 "Students can now go to any practice room and find consistency in the piano that's there, and Yamaha pianos stay in tune much longer, which is also a tremendous benefit for students," said Aaron Garner, San Joaquin Delta College.
STOCKTON, Calif. (PRWEB) May 09, 2016
Students and faculty at San Joaquin Delta College have welcomed more than a dozen Yamaha pianos this semester as part of a long-overdue upgrade for the music program at the community college.
The pianos, ranging from concert grands to acoustic uprights to groundbreaking digital Clavinovas, replace instruments that have been in use at the college for decades, in some cases 40 years. In purchasing the new pianos, the selection committee sought out Yamaha because of the benefits the brand can offer students.
"Yamaha is the most widely used piano in the world for educational and institutional settings, and for good reason," said Aaron Garner, a professor of piano, music theory, jazz and music history at the two-year community college. "We were attracted to the sound quality and consistency in performance, craftsmanship, the accuracy and speed of the action, durability, the great track record Yamaha has for low maintenance, the technology in the digitals and the many other characteristics that Yamaha instruments are known for."
The newly purchased Yamaha CFX concert grand piano will be housed in the college's concert hall/theater. The CFX has already made its mark on concert stages around the world, and a growing number of top music programs, colleges, universities and performance venues have selected the CFX because of its quality sound, superior craftsmanship, outstanding expressiveness and power.
In addition to the CFX, San Joaquin Delta College purchased a C7X, the top model in Yamaha's CX Series. Also selected was a C5X grand, a U1 upright piano, six Clavinova 545 digital pianos, and a half-dozen P22 uprights now being used in San Joaquin Delta's 15-plus classrooms, practice rooms, studios and choral room.
"The students are just thrilled," said Garner. "This is definitely a positive and very welcomed upgrade for our music program and the college. Students can now go to any practice room and find consistency in the piano that's there, and Yamaha pianos stay in tune much longer, which is also a tremendous benefit for students."
The half-dozen Clavinova digital pianos provide students and teachers with unprecedented versatility, sound quality, and state-of-the-art functionality. Realistic touch and response, paired with the unmistakable tone of the finest concert grand pianos ever made, the Clavinova, which never needs tuning, has been hailed by musicians and educators around the globe for delivering expressive capabilities and a dynamic range that redefines the standard for digital pianos today.
"Clavinovas offer the closest sound, touch and performance to an acoustic piano that I've seen in a digital piano, so the choice was pretty clear," Garner said. "That's extremely important and valuable to students of any performance level. The sampling technology in these digital pianos was also a huge factor in our selection, as was the fact that the action is closest to an acoustic piano, and the Clavinovas offer the most accurate reproduction of an acoustic piano sound."
-END-
About San Joaquin Delta College
An accredited two year-college offering associate degrees in a range of majors, San Joaquin Delta College is a community college in Stockton, California, formed as Stockton Junior College in 1935. In 1948, it became Stockton College, and then about 1963, became San Joaquin Delta College.