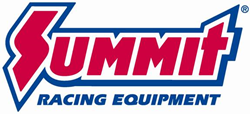 Tallmadge, OH (PRWEB) May 11, 2016
Summit Racing now carries BluePrint Engines' 383/445 HP Chevy Power Adder Crate Engine and HVH Super Sucker Carburetor Spacers for performance enthusiasts looking for a supercharger-ready engine or extra horsepower for a race engine.
BluePrint Engines 383 C.I.D./445 HP Chevy Power Adder Crate Engine
This 383 cubic inch stroker small block Chevy engine is designed specifically for use with a power adder,. It comes fully assembled and ready for an induction system, ignition, and accessories. The crate engine is rated at 445 horsepower and 463 lbs.-ft. of torque, and has an 8.9:1 compression ratio that is perfect for a turbo or blower setup. Features include:

Brand new American-made four-bolt iron block—square and parallel-decked, align-bored, one piece rear main seal
Brand new forged crankshaft, connecting rods, and pistons
Hydraulic roller cam—.536"/.555" lift, 224°/236° duration @.050"
Assembled aluminum cylinder heads with 64cc combustion chambers, 2.08"/1.60" valves, 1.295" dual valve springs, 1.5 ratio aluminum roller rocker arms
Oil pan with Melling high volume oil pump and pickup
Front timing cover and stamped steel valve covers
Oil filter adapter
Recommended timing: 10° BTDC base, 34° total
The BluePrint Engines' 383 C.I.D./445 HP Power Adder Crate Engine is covered by a 30 month/50,000 mile limited warranty—darn good for a hot rod engine.
HVH Super Sucker Carburetor Spacers and Adapters
Super Sucker carburetor spacers. The spacers have a four-hole carburetor base that seamlessly blends the carb bores into an open plenum at the intake manifold. This best-of-both-worlds design is proven to improve midrange and high RPM output. HVH says gains from eight to 20 horsepower are possible depending on application.
The plastic Super Sucker carburetor spacers are designed for drag race use only. The aluminum spacers are ideal for circle track, road race, and off-road use. They are available for 4150/4160 squarebore, Dominator, and two-barrel carburetors.
Summit Racing also offers HVH Super Sucker carburetor spacer/adapters. They feature the same power-building design as the Super Sucker spacers, but adapt a 4150 style squarebore carburetor to a Dominator pattern intake manifold, or a Holley 4412 two-barrel carburetor to a four-barrel squarebore pattern manifold.
Summit Racing Equipment
http://www.summitracing.com
1-800-230-3030