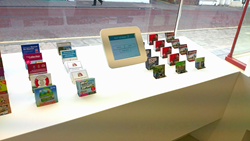 imageHOLDERS gave great customer service when ordering.
Poole, Dorset (PRWEB UK) 10 May 2016
The Shell tablet enclosures securely enclose the Samsung S2 9.7" tablet which encourages guests to interact and learn more about the museum.
The tablet enclosures were installed into the reception area of the museum for guests to use as an information point for the centre and its facilities. The reception area is clean and modern, the perfect match for the tablet enclosures aesthetics.
The National Civil War Centre, which opened in 2015 with funding from the Heritage Lottery Fund, combines interactive exhibitions and events. The tablet kiosks will help to inform customers about the museum and encourage interaction with the exhibits.
Mark Williams, Operations Manager, National Civil War Centre Newark Museum, said: "imageHOLDERS gave great customer service when ordering. I had a new tablet and they helped get me a holder where others couldn't. People find the mounts reliable and colleagues easy to use."
Peter Thompson, Director, imageHOLDERS said: "It was a pleasure to work with Mark and his team. The Shell range is one of our securest ranges, and an incredibly popular solution amongst businesses looking to engage and inform their customers.The National Civil War Centre has a very modern feel to the reception area, and we are pleased with the Shell tablet enclosures ability to seamlessly integrate into the museum."
The Shell 10 tablet enclosure is highly suited for high traffic areas, being originally designed for a large fast food retailer, ensuring the security of the tablet, whilst remaining visually striking. The Samsung S2 is securely enclosed by the Shell 10 tablet enclosure, which can also fit virtually any tablet up to 10.1 inches including the iPad Air and Samsung Galaxy Tab A.