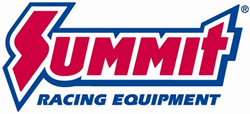 Tallmadge, OH (PRWEB) May 11, 2016
Summit Racing's product people have been very busy scouring the earth for performance parts and accessories. Check out the latest parts to bear the Summit Racing name.
Small Block Chevy Crate Engine Startup Kit
This kit has everything needed to properly break in a small block Chevy crate engine:

Five quarts Joe Gibbs Driven 5W-30 break-in motor oil
Two gallons Chevrolet Dex-Cool coolant
Fram HP4 oil filter
Summit Racing oil filter adapter
Summit Racing oil dipstick
Summit Racing intake gasket set
Mr. Gasket exhaust manifold gasket set
Summit Racing water pump gasket set
Fel-Pro water neck gasket
Permatex RTV silicone
The Small Block Chevy Crate Engine Startup Kit is designed for 1955-91 Gen 1 small block Chevy engines.
Pro Series Stainless Steel Roller Rocker Arms
Stainless steel roller rockers are super strong and reduce power-robbing friction. The Pro Series stainless rockers feature premium-quality stainless steel rocker bodies resist deflection that can throw off valve timing. The full-roller design reduces friction, and the rockers have plenty of clearance for valve springs with high open pressure rates. Pro Series Stainless Steel Roller Rocker Arms are available for small block Chevy, big block Chevy, and small block Ford. Polylocks are included.
Summit Racing High Output Coils
These coils provide over 40,000 volts of spark energy with lower primary resistance and greater high rpm spark dwell than OEM coils. The coils are available in universal-fit canister style or E-core style with epoxy-coated windings. The OEM replacement coil packs fit in the stock location and are available for GM LS engines, 1986-2001 GM engines with DIS ignition, and 1991-2004 Ford four-cylinder and V8 engines. We also offer an LS Coil Pack Kit with eight high-output coils and mounting brackets.
Summit Racing Equipment
http://www.summitracing.com
1-800-230-3030