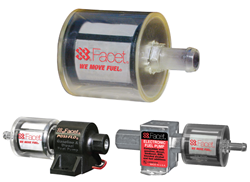 "The new design simplifies installation and eliminates the potential of air and fuel leaks in the fuel system."
Elmira, NY (PRWEB) May 23, 2016
Motor Components, LLC, manufacturer of Facet®/Purolator® self-priming electronic fuel pumps, recently introduced a line of clear, screw-on fuel filters designed specifically for use with their CUBE® and POSI-FLO® solid state fuel systems. The new fuel filters are encased in clear housing and have been designed to allow for easier installation and maintenance saving OEM customers time and money.
Installation of the newly designed filters requires one fuel hose and two clamps rather than two fuel hoses and four clamps traditionally needed to install in-line fuel filters from tank to pump. This installation eliminates potential air or fuel leaks in the fuel system, protects the fuel pump and helps avoid warranty issues.
The clear housing allows the operators and mechanics the ability to inspect the fuel filter in-line, saving time and money. The operator can now change the filter when it's consumed rather than dissembling part of the fuel system to inspect it.
Motor Components' new design supports the use of these larger fuel filters in diesel engine applications. This ultimately results in OEM customers saving costs over their current fuel system design.
Motor Components' new clear, screw-on fuel filters are available in four models featuring high-quality nylon with polyester mesh filter, 5/16'', 3/8", 1/2" and SAEJ2044 hose barb sizes, 8 times more total volume area than Facet®/Purolator®'s original 479735 fuel filter, 74 micron for excellent fuel pump protection and reduced warranty issues and they are UL listed.
Users will appreciate these additional benefits:

Quickly installs directly to the inlet of the CUBE® and POSI-FLO® solid state style fuel pumps
Compatibility with gasoline, diesel, biodiesel, E85, and fuel additives
Meets strict requirements of clean fuel systems
Eliminates air and fuel leaks
Simple, clean installation requiring one fuel hose and two clamps from tank to pump
Easy inspection through the clear housing without needing to disassemble part of the fuel system
In addition to fuel filters, Motor Components private labels Facet®/Purolator® external and in-tank electronic fuel pumps for companies around the world. Facet®/Purolator® fuel pumps are available in standard configurations or can be custom engineered for specific applications.
_____________________
Motor Components, LLC is the industry's leading manufacturer of Made in America electronic, low pressure fuel pumps for over 65 years. They manufacture a complete line fuel pumps and accessories for diesel engines, generators, construction equipment, military vehicles, power sport and the automotive aftermarket.