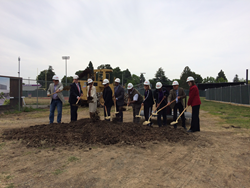 The college and community are clearly excited for construction to begin, this project has been years in the making and is now a reality - Mantas Juska, Project Manager, Gilbane Building Company
San Jose, CA (PRWEB) May 09, 2016
Community and school officials, including the Chancellor of the San José-Evergreen Community College District, Dr. Deborah Budd, President of San José City College, Dr. Byron Breland and Deputy City Manager of City of San José, Ms. Julie Edmonds-Mares were in attendance to celebrate the official breaking of ground for the San Jose Evergreen Community College P.E. Building located in San Jose, California on Wednesday, May 4, 2016.
Gilbane will serve as Program Manager for the new 39,304 square foot state-of-the-art physical education building that will include an 832 seat gymnasium, offices, a classroom, fitness center, PE/Kinesiology lab room, student locker rooms, visiting team room, concession stand, equipment storage room, training room, and team rooms. The adjoining Wellness Center will house a yoga studio, multi-purpose PE/Kinesiology lab room and restrooms. The project should be completed in less than two years.
"The College and community are clearly excited for construction to begin, as this project has been years in the making and is now a reality." said Mantas Juska, Project Manager, Gilbane Building Company "San José City College has produced 21 former Olympians, so it is a great pleasure knowing that Gilbane, through the construction of the P.E. Building, will have a hand in the development and creation of future Olympians."
About Gilbane Building Company
Gilbane provides a full slate of construction and facilities-related services – from pre-construction planning and integrated consulting capabilities to comprehensive construction management, close-out and facility management services – for clients across various markets. Founded in 1873 and still a privately held, family-owned company, Gilbane has more than 50 office locations around the world. For more information, visit http://www.gilbaneco.com.