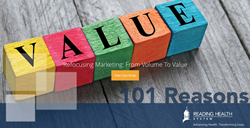 The largest and most comprehensive campaign ever initiated by Reading Health System
Morristown, New Jersey (PRWEB) May 11, 2016
Two industry-leading healthcare marketing awards competitions, Healthcare Advertising Awards and Aster Awards, have recognized Trajectory with national awards for its "101 Reason's Why" Integrated Marketing Campaign for Reading Health System.
Of all the the transformations reshaping American healthcare, none is more profound than the shift toward "value." For consumers who are increasingly forced to shoulder additional health care costs – there is an expectation of the same values of choice, convenience, cost effectiveness and experience offered by other industries, such as retail, banking and hospitality.
This was the backdrop for Trajectory's healthcare marketing campaign for Reading Health System, the largest and most comprehensive campaign ever initiated by the Pennsylvania-based health system. Executed across all internal touch points as well as TV, radio, print, out-of-home, digital, social media and a dedicated microsite, the campaign gives prospective health care customers all the reasons they need (in fact, a 101 of them based on Trajectory's research) to choose Reading Health System.
Marketing goals were to 1) educate about making today's healthcare decisions; 2) substantiate what RHS is doing to deliver value; and 3) motivate people to engage in their health and consider RHS the smart choice for care. The campaign addresses and substantiates all the value hot buttons of quality, cost, technology, customer experience, convenience, patient engagement, collaboration, innovation and wellness/support.
For more information about Trajectory, visit http://www.trajectory4brands.com.
About Trajectory:
Trajectory specializes in creating the momentum that brands need to perform at their best across the interconnected industries of Healthcare, Personal Care and Wellness & Active Living. The brand strategy and activation agency helps clients across the country to create, refocus and re-energize their brands – strategically, creatively and cohesively.
###