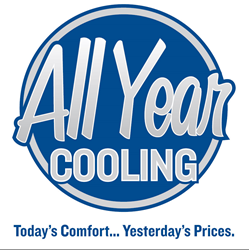 At All Year Cooling we are always looking for new, fresh faces to join our family.
Fort Lauderdale, Florida (PRWEB) May 09, 2016
All Year Cooling, a local South Florida air conditioner installation and repair company is expanding their workforce. The family-owned business is rapidly growing and is looking for qualified candidates to fill essential positions on their team.
The Customer Service Representative and Dispatcher is a joint position ideal for candidates who are strong communicators and able to multitask well. Some of the job duties include dispatching outside service technicians and effectively communicating with team members and customers. This individual should be a team player with strong computer skills and one who is able to demonstrate leadership among a team.
Another open position is a Data Entry Clerk. This position should be filled by someone with strong computer skills and superior communication ability. Ad ideal candidate is capable of scanning, entering, and maintaining all data entries efficiently and accurately.
All Year Cooling is also seeking an AC Service Technician. The ideal candidate for this position is proficient in writing estimates on repairing or replacing air conditioner units and should possesses the necessary skills needed to sell onsite. This position will only involve minor repairs.
The Inside Sales Representative position ideal for individuals who are highly motivated, self-starting sales reps. The full-time position involves sales quotas that must be met. The company is searching for someone who is skilled in prospecting current customers, finding potential sales opportunities, and reaching out to new clients who are interested in the company's services.
To learn more about any of these job descriptions or job requirements, visit allyearcoolingcareers.com, and if interested in applying email your resume to julie(at)allyearac(dot)com for consideration.
All Year Cooling President, Tommy Smith is quoted as saying "We know and understand how tough it is to not only find a job, but to find a job that you love. At All Year Cooling we are always looking for new, fresh faces to join our family." South Florida based All Year Cooling has been in business for the past 42 years. Specializing in air conditioning sales, repairs, maintenance, and installations, All Year Cooling knows what it takes to keep South Florida cool and out of the heat. President Thomas Smith is available 24/7 to answer his customers' phone calls at 954-773-8619.