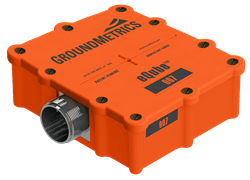 These data yield insights into injection planning and field development that give operators a major advantage.
Houston, TX (PRWEB) May 10, 2016
GroundMetrics Inc., a world-leading electromagnetic company and oil and gas technology pioneer, was awarded a contract for a CO2 Enhanced Oil Recovery (EOR) survey in the Texas Gulf Coast.
The operator has involved GroundMetrics from the first stages of tertiary field development. This specific survey covers three square miles and will provide baseline reservoir data for a CO2 EOR flood. The results will help the operator plan and manage their entire injection program. The operator may schedule time-lapse follow-ups to the baseline survey to show where and how the CO2 is moving through the field.
Industry-wide, CO2 injection represents 30% of total production costs on EOR fields. With oil prices hovering around $47 per barrel, operators are keen to improve efficiency and get more oil out of existing fields. This is GroundMetrics' third time-lapse electromagnetic survey of CO2 in a deep oil reservoir with sensors at the surface. Acquiring data from the surface allows the entire field to be surveyed (between and beyond wellbores) and makes surveying economical.
"In the current macro environment, we are aggressively looking for new efficiencies," said the operator's asset manager. "By integrating GroundMetrics' data into our injection plan from day one, we will be able to get more oil out of the ground faster and cheaper. Getting additional visibility into our CO2 floods gives us entirely new options for optimizing production."
GroundMetrics' technology has numerous applications (including EOR/IOR, exploration/exploitation, and frac fluid monitoring) and was recently awarded a separate contract for IOR waterflood monitoring. Over 50% of the world's oil recovery operations use waterflooding.
"An old adage says the best place to find oil is (existing) oilfields," said George Eiskamp, CEO at GroundMetrics. "We're excited to be leveraging our technology to help operators maximize asset value and improve operational efficiency."
"These data yield insights into injection planning and field development that give operators a major advantage," said Mark Wilkinson, SVP Unconventionals at GroundMetrics. "With oil prices as volatile as they are, everyone needs to figure out how to produce more, smarter. That's why we're starting to see so much traction for this application."
GroundMetrics Inc. is the world leader in surface-based resistivity sensing onshore. Its customers include oil and gas companies as well as government energy agencies. GroundMetrics uses its unique technology to eliminate blind spots underground, which increases production, improves efficiency and reduces wasted spending and capital expenditures. For more information, visit http://www.GroundMetrics.com.
CONTACT: Jessie Kaffai; jkaffai(at)groundmetrics(dot)com; 858-381-4155.