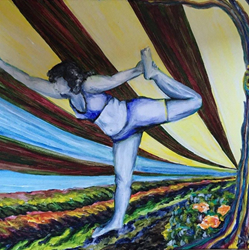 Love yourself the way you are...
Cupertino, California (PRWEB) May 07, 2016
An exhibition titled 'The Creative Soul: Art, Play & Ritual, at Life Force Arts Centre in Chicago, is a multi arts show, using art to awaken sentient experiences.
At the ongoing exhibit, feminist artist Sujata Tibrewala's new painting entitled Temple, depicts a powerful female form in a trapezing posture. The artist marks the occasion of Mother's Day, (May 8) traditionally celebrated on second Sunday of May every year, by showcasing a female form that may not be perfect in the conventional sense but retains all its agile glory. The idea being, to look beyond the obvious flaws and appreciate that the body has undergone some of the most rewarding and beautiful experiences in life. According to Tibrewala, the inspiring force behind the idea remained motherhood and how it changes a female body physically but emotionally recharges it into a more superior being.
The feminine form represented in the painting is a strong statement that talks about the various transitions in life. From puberty to motherhood to post menopausal state, each of the life's phases is reflected in the changes a woman's body experiences. For the artist the Mother's Day is the perfect occasion to raise a toast to all mothers and all women who take pride in their bodies without succumbing to the hollow norms of beauty.
For Tibrewala the body is beautiful because it represents a woman's ability to procreate and also her feisty spirit to be agile, gentle and sensitive all at the same time.
As a befitting example, Tibrewala has represented her own form for the painting and for her it resonates the experiences of women across cultures.
This Mother's Day the artist wants to remind everyone and especially all the women of the limitless possibilities this seemingly imperfect body is capable of achieving.
About the artist:
Sujata Tibrewala, a self-taught artist come engineer remarkably embodies the indomitable spirit of human existence through her works. Her works, center around the theme of eco-feminism. She has exhibited her artworks in some of the most reputed venues around the globe such as University of Illinois, Chicago, Raw San Jose, Parallax Art Fair London, the Regional Commission of Arts St Louis, Life Force Arts Chicago, Mindworks Gallery Chesterfield, St. Louis Artists' Guild, Chesterfield Arts, Art World Association, Women's Caucus for the Arts, MySLART and Lalit Kala Academy, Delhi.
She moved to the USA in 2010 from India and practices her art form at the Bay Area, CA, where she resides presently.