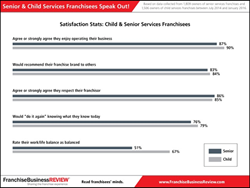 "As long as there is an aging population and children, there will always be demand for child and senior services," said Franchise Business Review's CEO Eric Stites. "Many franchises in this space have performed well. "
Portsmouth, NH (PRWEB) May 13, 2016
Owners of child- or senior-focused franchises benefit from their businesses being recession resistant according to the latest free report - Top Senior and Child Services Franchises - released by Franchise Business Review, a national franchise market research firm. The report assesses the franchise investment opportunity of each sector and highlights data collected from 1,809 owners of senior services franchises and 1,506 owners of child services franchises. In addition, it features the top 30 child and senior services franchises based on franchisee satisfaction ratings.
"As long as there is an aging population and children, there will always be demand for child and senior services," said Franchise Business Review's CEO Eric Stites. "Many franchises in this space have performed well. "
Demand for services that help seniors is booming and will continue to grow as 10,000 people turn 65 everyday. By 2030, 70 million Americans will be over the age of 65. With life expectancy getting longer and longer, individuals reaching age 65 have another 20 years on average to live.
The child services franchise sector is one of the fastest growing for multiple reasons. The first is that there are a lot of children in the United States. Of the 50.1 million students attending public elementary and secondary schools, 35.2 million will be in prekindergarten through grade eight and 14.9 million will be in grades nine through 12. This does not even account for the millions of students who attend private schools. Other factors driving the sector's growth include research that supports the crucial role the first five years play in children's long-term development, schools cutting physical education, art and music programs and extracurricular funding, and even the Obama administration's focus on child obesity as an epidemic in our country. The tutoring industry alone is currently a $4.5B industry and projected to reach $7B by 2020 according to the Anything Research market report from 2016.
The senior services franchise industry includes homecare services, companies that connect providers with customers, and businesses that provide mobility equipment. The child services franchise industry encompass a variety of offerings, including tutoring and education, sports and physical development, child care, retail/resale stores, and niche services such as photography.
How satisfied are senior and child services franchise owners? In addition to child and senior services franchises being in a good position when it comes to a strong customer base, their owners tend to be very satisfied. When asked to answer the following questions by Franchise Business Review, they responded as follows: Agree or strongly agree they enjoy operating their business - 87% Senior vs. 90% Child; Would recommend their franchise brand to others - 83% Senior vs. 84% Child; Agree or strongly agree they respect their franchisor - 86% Senior vs. 85% Child; Would "do it again" knowing what they know today - 76% Senior vs. 79% Child; Rate their work/life balance as balanced - 51% Senior vs. 67% Child.
How much might you earn? The average pre-tax income for franchisees at child services concepts that Franchise Business Review surveyed was $101,626 for education focused franchises, $47,828 for recreation focused franchises, and $63,395 for other child services franchise concepts (e.g. art classes). It's important to note that 50% of child services franchisees report working less than 40 hours/week. The average gross income figure for the senior services concepts Franchise Business Review surveyed was $118,140.
There are always star franchisees within a system who far exceed the average income, while others make less. The success of any franchise investment is dependent on the skills of those who own it, location, and how the franchisor performs in crucial areas including training, support, leadership, marketing, and culture. Many of the 30 brands featured within the Top Senior & Child Services Franchises report share how their franchisees rank their performance in these crucial areas and more in the Franchise Reviews section of FranchiseBusinessReview.com. If you are interested in exploring franchises in other sectors, Franchise Business Review's list of the top 200 franchise brands based on franchisee satisfaction is available for free at FBR50.com.
About Franchise Business Review
Franchise Business Review, a national franchise market research firm that performs independent surveys of franchisee satisfaction and franchise buyer experiences, examines the critical areas of a franchise system including training & support, operations, franchisor/franchisee relations, financial opportunity, and more. Its survey results deliver the unbiased facts about the overall health of a franchise system directly from today's franchise owners. The firm's services include commissioned franchise research projects, as well as industry-wide studies of franchisee satisfaction. Franchise Business Review is headquartered in Portsmouth, NH, and can be reached at (603) 433-2270. Visit FranchiseBusinessReview.com