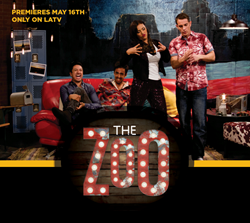 We are creating unique U.S produced content that will talk directly to the millennials, as they seek a voice that they can relate and trust. The voice is here and it's called LATV.
Los Angeles, CA (PRWEB) May 09, 2016
LATV, the original national bi-cultural television network, is excited to announce a new, daily talk show called The Zoo, premiering May 16TH. It's a fast-paced, irreverent, high-energy hour-long show featuring celebrity guests, games, trivia, and segments that cover everything from politics to pop culture, and the latest viral trends from the web. Nothing is off limits on The Zoo.
The Zoo is hosted by comedian and TV personality Humberto Guida, actress and model Nelly Castillo, celebrity gossip authority Dennis Pastorizo and eccentric rebel correspondent Bruno Ulloa.
LATV is known for taking an alternative approach to its programming, and now the majority of its content will be produced for all platforms in the U.S., based out of its state-of-the-art Los Angeles studios. The new programing contains a vast array of new productions that take us inside the art, the music, the sports, and the trends that Latino millennials are into today. Spearheading this initiative is The Zoo.
Luca Bentivoglio, LATV's COO and Head of Programming explains. "We are creating unique U.S produced content that will talk directly to the millennials, as they seek a voice that they can relate and trust. The voice is here and it's called LATV."
About LATV:
LATV is the only remaining Latino-owned TV network in the Hispanic television space. Its programming primarily targets U.S.-born Latinos and the coveted bi-cultural 18-49 Latino demographic, with content that features a originally produced shows in Los Angeles, as well as licensed content that has never before been seen in the U.S. For more go to http://www.LATV.com