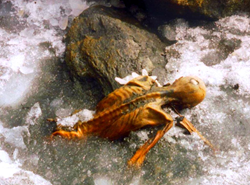 Like all new scientific theories, any new genome data requires International review.
Chicago, Illinois (PRWEB) May 09, 2016
Reading time: 3 minutes
In the first quarter of 2016, a Nova Science program aired about the 5300-year-old European mummy known as Otzi the Iceman. In what was an outstanding achievement, his body was digitally scanned and printed on a large format 3D printer. After some careful painting, a perfectly created copy was displayed upright. With the addition of glass eye balls, one could get a sense of the living man.
Toward the show's end, a new wrinkle in the dispute between the American and European Otzi theories emerged concerning his life and cause of death. Those two theories are:
1) European: Neolithic Crime Scene - that Otzi was shot with an arrow in the shoulder blade (scapula) by an unidentified party and died immediately. His high quality hunting equipment was then broken and scattered around the trench (Tisenjoch saddle);
2) American: Accidental Death – that Otzi fell approximately 22 stories down the mountain-side into the trench where his equipment were found broken and scattered.
The scientific part of the show was of interest because it ignored Otzi's substantial full body damage. For some time the determination has been that a major force, scientists refer to as the "single dominant mechanism", inflicted his massive rib cage and cranial wounds. Rather, their guest commentator focused on Otzi's genome. With repeated mesmerizing double helix swirls in the background, their edict was that Otzi's DNA more closely matched Neolithic farmers. They claimed these farmers were from Turkey. Their Otzal Alps Turks civilizational model is unique to this show.
LNN indicates they failed to mention that Otzi's powerful leg muscularization could not have resulted from working tillable fields. It is long confirmed that his tibia exhibits a powerful lower leg development (exaggerated anteroposterior diameters) stemming from high slope mobility and carrying loads (game) over rough terrain. Those activities created thicker nutrient canals within his heavier bone diameters than could not have come from subsistence agriculture.
Further reference is made to the 2002 novel "Jack the Ripper – Case Closed". This was the easily debunked theory accusing an artist of those crimes by allegedly deriving DNA off a postage stamp purportedly licked in 1888. Now we have the Otzi's "closer to" farmhand genetic theory, announcing he was a sodbuster dying at 3210 meters above sea level – disguised as one of the most cutting-edge hunters of his day.
Like all new scientific theories, any new genome data requires International review. The show's dazing visual effects, advancing theories at variance with the body's physical marks, emerge as problematic.