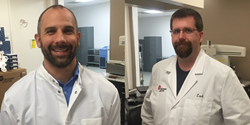 Yorba Linda, CA (PRWEB) May 09, 2016
The ability to produce accurate and reliable next-generation sequencing (NGS) data depends on the quality of the library sample that is sequenced. While NGS sample prep has become less cumbersome, it remains a labor-intensive process where errors are all too common.
A timely, standardized solution is at hand: liquid-handling automation. This approach releases technicians from the task of performing repetitive, time-consuming pipetting; efficiently keeps track of the many steps; and helps assure sequence-ready libraries that provide dependable results.
Beckman Coulter Life Sciences is sponsoring a new, three-part webinar series, "Intro to Automating NGS Workflows." The first webinar in the series, "Easy Automation Solutions. Better Results," will discuss key challenges that have been conquered using automated sample preparation. The speakers will also demonstrate the ease-of-use and benefits—such as quality data—of using Biomek-automated NGS sample prep.
The speakers, David Horvath, MS, and Zach Smith, MS, are both senior applications scientists with Beckman Coulter Life Sciences.
David automates propriety and third-party NGS chemistries. He holds a master's degree in medical and molecular genetics from the Indiana University School of Medicine. David's career experiences prior to joining Beckman Coulter Life Sciences in 2014 span a broad range of life science fields, including forensic DNA analysis, medical diagnostics, and agricultural biotech. Zach automates propriety and third-party NGS kits. He holds a master's degree in environmental science from Indiana University. Zach also worked at the university's Center for Genomics and Bioinformatics as a project scientist before joining Beckman Coulter Life Sciences in 2014.
The free webinar (Part 1 of the three-part series), hosted by LabRoots, will be presented on May 19, 2016, at 8 am PT/11 am ET.
For full details about the event and free registration, click here.
Please save the following dates for upcoming presentations in this series:
Part 2: DNA & RNA Sequencing Sample Prep: Automating Simple to Complex Methods, on June 23, 2016, at 8 am PT/11 am ET.
Part 3: Mission Possible: Automating NGS sample prep for challenging samples and niche applications, on July 28, 2016, at 8 am PT/11 am ET.
About Beckman Coulter Life Sciences:
Beckman Coulter Life Sciences develops, manufactures and markets products that simplify, automate and innovate complex biomedical testing. For more than 75 years, our products have been making a difference in peoples' lives by improving the productivity of medical professionals and scientists, supplying critical information for improving patient health and delivering trusted solutions for research and discovery. Scientists use our life science research instruments to study complex biological problems including causes of disease and potential new therapies or drugs. As part of Life Sciences, the Particle Characterization and Counting business serves biopharma production and QC environments, as well as research functions within large biopharma companies. For more information, visit beckman.com
About LabRoots:
LabRoots is the leading scientific social networking website and producer of educational virtual events and webinars. Contributing to the advancement of science through content sharing capabilities, LabRoots is a powerful advocate in amplifying global networks and communities. Founded in 2008, LabRoots emphasizes digital innovation in scientific collaboration and learning, and is a primary source for current scientific news, webinars, virtual conferences, and more. LabRoots has grown into the world's largest series of virtual events within the Life Sciences and Clinical Diagnostics community.