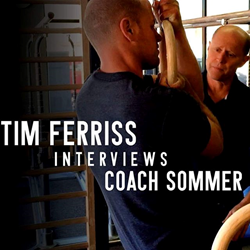 Short concise "pull out" quote highlighted on the press release to grab attention.
Anthem, Arizona (PRWEB) May 09, 2016
After experiencing success with Gymnastic Strength Training™ firsthand, Tim Ferriss decided it was time to learn more about the creator of this amazing program, former US National Team Gymnastics Coach, Christopher Sommer.
With national acclaim for his Podcasts, celebrity interviews and the creation of an approachable yet intelligent model of self-help culture, Tim's focus on personal growth led him to reach out to GymnasticBodies.com to meet Coach Sommer and request an interview.
Though a highly recognized writer, Tim's 'long suit' is Podcasts. His prior guests include Arnold Schwarzenegger, Jamie Foxx, Edward Norton, Ed Catmull (President of Pixar), Tony Robbins, Peter Thiel, Rick Rubin (legendary music producer), Reid Hoffman (LinkedIn), Jon Favreau (Director/writer), Mike Shinoda (Linkin Park), Neil Strauss (7x NYT bestselling author), and dozens more.
Ferriss only interviews the best of the best in every field. As such, he only endorses those he considers at the top of the class in their industry. His accolades, elite associations and interviews make him not only a celebrity, but also the translator of many innovative and conscious living methodologies to the mainstream public. He has transformed the way we reflect about and take action in our lives, to offer the everyday person a chance to become their best self.
And now, we're excited to announce that Tim Ferriss has interviewed one of our own, Coach Christopher Sommer!
Coach Sommer has built an empire in the modern-day fitness industry with his extensive 40 years of experience as a former USA JR National Team Coach. He used his real life training experiences to create GymnasticBodies.com, and develop Gymnastic Strength Training™ a fitness method with top-notch programming for adults and athletes alike.
Coach Sommer has taken his overall knowledge of athletes and the human body to teach, train, and create a highly-efficient and sustainable fitness program, accessible to the everyday person. He wrote the book Building The Gymnastic Body: The Science of Gymnastic Strength Training which has recently been expanded into online courses being offer at GymnasticBodies.com; where you will also find the most active bodyweight forum in the world.
As a world-renowned coach and visionary, Coach Sommer and his system of Gymnastic Strength Training™ has gained so much interest and admiration, he was asked to share his work with Tim Ferriss.
GymnasticBodies is honored to be on this ride with Tim – to listen to the Podcast, visit link.