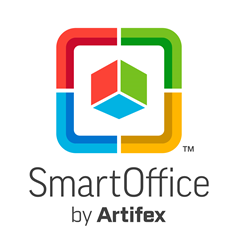 "Intellectual property is the lifeblood of technology and software companies. We are pleased to have reached a settlement and defended our property rights for the SmartOffice mobile app." - Miles Jones, President of Artifex Software
San Rafael, CA (PRWEB) May 10, 2016
Artifex Software, Inc., developer of leading mobile MS Office app for iOS and Android, SmartOffice, announced that it has settled its lawsuit with Entwrx Ltd. over appropriate use of SmartOffice technology and brand. The case (number 3:2014cv05231) was filed in United States District Court, Northern District of California. Terms of the settlement remain confidential. 
SmartOffice was acquired by Artifex Software in early 2014. The mobile app is a leading MS Office productivity suite that enables people to view, edit, create, share, present and print Microsoft Office documents (Word, Excel and PowerPoint) on their mobile devices. With over 350 million downloads, SmartOffice is a proven alternative to MS Office for mobile device for all leading mobile platforms. With an adaptable screen display that conforms to smartphones and tablets, the app's high quality document representation and small file size make it a perfect fit for today's growing mobile workforce.
Customers can download SmartOffice from the iTunes App Store, Google Play and Amazon, and is also available through leading Enterprise File Synchronization and Sharing (EFSS), Mobile Device Management (MDM), and Enterprise Mobility Management (EMM) platform companies.
"Artifex believes and adheres to the tenet that intellectual property is the lifeblood of technology and software companies. We have always vigorously defended this position," said Miles Jones, President of Artifex Software. "We are pleased to have reached a settlement that supports this point. Having defended our property rights, we will continue focusing on what we do best – developing and providing outstanding customer service for great software that addresses our customers' needs."
############
SmartOffice
SmartOffice by Artifex is a leading Mobile Office Document Productivity Suite that puts the power to view, edit, create, print, share and convert documents to PDF at your fingertips. Covering all major document formats (Word, PowerPoint, Excel, plain text and major image file formats) on all mobile devices and a variety of operating systems, SmartOffice increases mobile productivity while delivering the best conformance with Microsoft Office document standards in the market today. SmartOffice is available for iOS and Android mobile devices can be downloaded from major app stores (iTunes, Google Play, Amazon) and is also available on a variety of leading Enterprise File Synchronization and Sharing, Mobile Device Management and Enterprise Mobile Management platforms. For more information, please visit our web site at http://www.smartoffice.artifex.com.
Artifex Software
Artifex Software is a trusted partner and provider of core technologies for document handling and management. For over 20 years, we have provided premiere software products to top level global customers.  The list of global customers/partners who depend on Artifex technology comprises a who's who in technology products and services, including HP, EMC, Kyocera, Ricoh, Adobe, IBM, Intel, Xerox, Google, Morgan Stanley, Ernst & Young, Dropbox, BlackBerry, Siemens, LG Electronics and many more. Our major product offerings include SmartOffice (mobile document productivity suite for viewing, editing, creating and printing MS Office documents and related files), Ghostscript (PDL Interpreter that is an industry leader in PDF, PostScript, PCL, and XPS rendering and conversion) and MuPDF (lightweight PDF and XPS interpreter that offers all the interactive features for PDF). Artifex is headquartered in San Rafael, CA, with offices in North America, Europe and Asia. For more information, please visit our website at http://www.artifex.com.