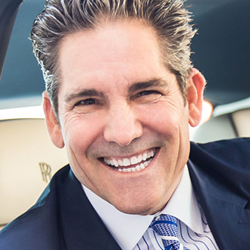 "The purpose of the water pitch is to find out how people handle one-minute cycles of communication. It tells me if this person would be good in accounting or on the web team—not sales." — Grant Cardone.
Miami, FL (PRWEB) May 09, 2016
Grant Cardone, international entrepreneur, real estate investor, expert sales trainer, television personality, New York Times bestselling author, and highly successful CEO put together a unique contest where he is giving away $1,000 to the person who can sell him on a simple glass of water. The contest comes in conjunction with Season 2 of his hit reality series "Whatever It Takes: The Ultimate Job Interview", where contestants had to pitch Cardone a glass of water to get hired.
The flood of submissions was cut down to a Top 25 on May 7th and from there voting is open to the public. People are encouraged to vote on their favorite pitch at http://www.grantcardonetv.com/perfectpitch/
The Water Pitch was Cardone's idea to find extraordinary people in a time when the job candidate pool seems to be degrading in quality and most candidates fail at even the most basic professional skills.These job seekers, from recent graduates to seasoned sales professionals, have trouble even pitching a glass of water.
Could you pitch a glass of water?
The art of pitching something is more difficult than most people realize, but it is a vital skill in today's competitive marketplace. Grant Cardone teaches that there are many elements to a good pitch, which include things such as having a goal, getting the person's attention, making a claim, determining if the person is a decision maker, qualifying the buyer, and hooking them.
The Water Pitch Contest has come at a time when nearly half of all 25 year-olds are living with their parents and 76% of all Americans are living paycheck to paycheck. Many job seekers not only don't know how to pitch a glass of water—they don't understand how to pitch themselves.
Viewers can also go to http://www.TheUltimateJobInterview.com to catch up on Season 2 of Whatever It Takes.
About Grant Cardone:
Grant Cardone is a business strategist, marketing and branding expert, the leading international sales expert in the world and best-selling author of five books. Cardone owns multiple companies; Cardone Training Technologies , Inc., Cardone Group (a software and technology business), Grant Cardone TV (online media network--GrantCardoneTV.com), and Cardone Acquisitions, a national real estate company which currently owns over 3,500 units throughout the United States.
Cardone is the world's top sales training expert with the most viewed online sales training site in the world today with over 1500 segments of content used by companies like Ashley, Aflac, All State, Google, MIT, Inside Sales, Udemy, Chrysler, Toyota, Morgan Stanley, T-Mobile, AT&T, Sprint, Fran Tarkenton Companies and thousands more. You can follow Cardone on Twitter @GrantCardone or visit http://www.GrantCardone.com
----
For further press information on Grant Cardone please contact Vaughn Reynolds:
Vaughn Reynolds – Public Relations
Vaughn@GrantCardone.com
Cardone Training Technologies, Inc
Phone: 310.777.0255
Fax: 310.777.0256
Web: http://www.grantcardone.com