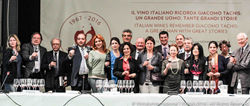 The tasting was a beautiful showcase of the many different terroirs, vines and producers he touched; Tachis created a new class of wines that today represent the best of Italy.
Verona, Italy (PRWEB) May 07, 2016
On April 13th in Verona, the Vinitaly International Academy closed out its seminar series with a tasting in tribute to Giacomo Tachis, the renowned father of the Italian wine "renaissance," who passed away on February 6 of this year. The 50th edition of Vinitaly was the first without this iconic Italian winemaker, credited for launching the astronomically successful "Super Tuscans," as well as developing outstanding wines throughout the peninsula.
The tasting was led by Ian D'Agata, the Scientific Director of the Vinitaly International Academy, with Ilaria Tachis, Giacomo's daughter and acclaimed winemaker in her own right. Ilaria shared a moving tribute to her father, remembering not only his work as a world-renowned enologist, but who he was as a parent, friend, student, and lover of Italian culture. Representatives of 12 of the wineries with which Tachis collaborated in his storied career also contributed reflections on the ways in which Giacomo touched their own lives, and work.
As Ilaria recounted to the over 100 participants in the tasting, Giacomo Tachis was born in Piedmont in 1933. A rebellious uninspired student, he found his passion at the Enological School of Alba, and launched his wine career in 1961, when he began working as a junior oenologist at the San Casciano estate of the Antinori family, eventually becoming the estate's wine director. "His aim was to increase the quality of production at the San Casciano estate at a time when Tuscany was flooded with the image of lower quality, high quantity Chianti wines," explained Ilaria.
"I worked side by side with Giacomo Tachis for more than 30 years," remembers Piero Antinori. "Those years changed the face of Italian wine. It was an extraordinary experience, both professionally and personally."
"Giacomo Tachis was the leading figure in the rebirth of Italian wine," agrees Allegra Antinori. "Together my father Piero Antinori's spirit of innovation and Tachis' talent and knowledge created modern Italian wine – innovating with courage and curiosity, convinced that our grapes and our land had the potential to achieve more."
Giacomo Tachis was also instrumental in developing Sassicaia, now one of Italy's most prestigious wines. "Today's tasting was a very special tribute to Giacomo Tachis, whom we have to thank for the rebirth of Italian wine," said Priscilla Incisa Della Rochetta of the Sassicaia estate. "The twelve wines showcased many aspects of Giacomo Tachis' genius, his capacity to imagine potential and create the best out of it. For us it was a great honor to be included in his life work and we will be forever grateful to him. We thank the Vinitaly International Academy for giving us the opportunity to be part of this memorable event."
Tachis was likewise fondly remembered by Michael Falchini, whose father Riccardo collaborated with Tachis at the Falchini estate in Tuscany. "Hearing all the stories of Giacomo Tachis not only as an enologist, but also as a passionate student of science and love of the ancient classics, was very emotional. The tasting was a beautiful showcase of the many different terroirs, vines and producers he touched; Tachis created a new class of wines that today represent the best of Italy. My father was always very thankful to have had him by his side and call him a friend, and to this day we still follow his teachings."
Tachis left Antinori in 1993, and worked as a consultant, predominantly in Sicily and Sardinia. "For my father, winemaking in the south was more satisfying," explained Ilaria, "not least because he enjoyed the historical ties with Greek and Phoenician settlers. 'They maintained that wine likes to breathe sea air, and it's still true today,' he said. My father thought that wine was the essence of the earth. He believed that wine had a soul."
That passion left its mark on the wines and winemakers of the south.
"When I met Giacomo Tachis, he was a man who had an enormous amount of historic and cultural knowledge," remembers Diego Planeta. "In those days, it was almost impossible to find someone interested in the wine of Sicily. In him I found a great master – and Sicily needed masters. When he thought of wine, he thought first of the territory, the land, and then the product. He probably understood Sicily more than I did. He was someone born to share his knowledge – what he knew, he gave to the world."
Franco Argiolas, of Cantine Argiolas in Sardinia, echoes this sentiment: "When he arrived here we were simply wine growers but we had a great dream; we wanted to make a Sardinian wine that would bring our island to the world. We needed a man who was as much in love with our land as he was ingenious. Tachis once said to me, 'Wine must be an expression of the territory it comes from and of the spirit and passion of those who produce it; I'm only a wine blender, it's you who make the wine great.'"
Giacomo Tachis had been recognized earlier that week as this year's Vinitaly International Awardee for an Italian Estate.
"It is such an honor to close the 50th anniversary of Vinitaly with an homage to Giacomo Tachis, together with 12 of the great producers he worked with," Managing Director of Vinitaly International told the audience. "Giacomo Tachis was truly one of the world's greatest winemakers, and he made the storytelling of Italian wine much easier for all of us."
About:
Veronafiere is the leading organizer of trade shows in Italy including Vinitaly (http://www.vinitaly.com), the world's largest wine and spirits fair. The next edition of the fair will take place on 10 - 13 April 2016. Since 1998 Vinitaly International travels to several countries thanks to its strategic arm abroad, Vinitaly International. In February 2014 Vinitaly International launched an educational project, the Vinitaly International Academy (VIA) with the aim of divulging and broadcasting the excellence and diversity of Italian wine around the globe. VIA has now also organized a Certification Course with the aim of creating new Ambassadors of Italian Wine in the World.
# # #