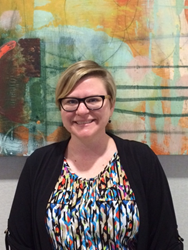 Raleigh, NC; Denver, CO; Chicago, IL; Washington DC; San Francisco, CA (PRWEB) May 09, 2016
DiabetesSisters is pleased to announce the addition of Erika Armani of Denver, Colorado to the Board of Directors as an ex officio nonvoting member.
Ms. Armani was nominated earlier this year and joined the Board of Directors on April 22, 2016. She was appointed by unanimous decision by current directors Donna Rice, David Warren, Matt Stella, Diana Karczmarczyk, Andrea Thomas, Wanda Nicholson, Vicki Norris, and Tricia Cedotal. Ms. Armani will bring the perspective of a Part of DiabetesSisters (PODS) peer support leader, and her experience as a woman who has lived with diabetes for 27 years, to the Board.
Ms. Armani has been involved with DiabetesSisters since 2013, serving as an active PODS leader first in Washington, DC and for the last year in the Denver Metro area. She also contributes time to DiabetesSisters as a website administrator. She stated, "I'm grateful for the support and community I've found through DiabetesSisters. I enjoy meeting other women living with diabetes through various programs such as PODS Meetups and the Leadership Institute, and look forward to serving in this new role."
"Growing our Board of Directors is a step in the continuing growth of DiabetesSisters," said Donna Rice, Board Chair. "Her perspective as a leader in the diabetes community brings further insight to the development of our programs and services."
Ms. Armani currently serves as the Deputy Ethics Counselor for the U.S. Bureau of Reclamation, where she advises Federal employees on how to avoid conflict of interest. Previously, she worked at the U.S. Food and Drug Administration, both as a Team Leader on the Ethics Staff and as a Biomedical Engineer where she reviewed medical devices for safety and effectiveness. Erika received a Bachelor of Science in Biomedical Engineering from Tulane University, and a Master in Business Administration from the University of Maryland's Robert H. Smith School of Business. She resides in the Denver Metro area with her husband and two rescue dogs.
"Erika's passion for women living with diabetes is evident in the work she does for DiabetesSisters, both online and in-person," said Anna Norton, CEO. "Her involvement with our Board of Directors will offer insight to our signature PODS Meetup Program and the development of new educational tools for women living with diabetes."
About DiabetesSisters:
A 501(c)(3) nonprofit, DiabetesSisters is the only organization worldwide focusing exclusively on women with diabetes. Our mission is to improve the health and quality of life of women living with and at risk of developing diabetes, and to advocate on their behalf. DiabetesSisters has a 10,000-member peer network that unites women with diabetes for the purpose of support, education, and advocacy. Signature programs include monthly small group meetings (PODS Meetups); DiabetesSisters conferences throughout the U.S.; the Life Class Webinar Series, and online blogs, forums, and expert resources. For more information, visit diabetessisters.org.