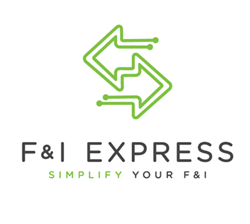 "This is an additional step forward in our efforts to assist the auto industry to bring more F&I processes online."
Dallas, Texas (PRWEB) May 07, 2016
"First Equity Payment is an acknowledged innovator in automotive payment processing," said Brian Reed, President and CEO of F&I Express. "The addition of First Equity Payment to the F&I Express network will now allow its many dealers a responsive payment alternative and the best-in-class solution for aftermarket providers. This is an additional step forward in our efforts to assist the auto industry to bring more F&I processes online."
"First Equity Payment has been enthusiastically anticipating the partnership with F&I Express and their extensive eContracting network," said Guy Manasse, CEO of First Equity Payment. "F&I Express is the dominate player in digital contracting, and their extensive aftermarket reach provides the most flexibility to Agents and Dealers borrowed none. This partnership creates opportunities to Agents and Dealers who play a serious role in the F&I process."
First Equity Payment helps customers take control of their finances by enabling them to manage payments better and build equity faster. Dealers then benefit from a faster selling cycle and the ability to improve Per Vehicle Financed (PVF) thru First Equity Payments. 'Additional Benefits Tool'. Agents all appreciate additional PVF, with great support and understanding of their responsibility to Dealers.
Currently, F&I Express works with many auto retailers across the U.S. to improve F&I processes. The company has aggregated a network of more than 110 automotive aftermarket insurance providers in an online portal accessible by its dealers.
About F&I Express
Since 2008, F&I Express has been dedicated to bringing aftermarket sales into the digital age with innovative technology solutions. With digital solutions that cut costs and increases efficiency, F&I Express helps its dealer clients' CSI ratings by providing a faster and error-free process to eRate, eContract and eRegister all of their aftermarket products on one platform. Established by the international company Intersection Technologies Inc., F&I Express has a network of more than 100 aftermarket providers. By moving product and pricing information online, F&I Express provides all parties with the instant online data access they want with simplicity and transparency. For more information about our innovative technology solutions, please visit fandiexpress.com or follow us on Twitter @fandiexpress.
About First Equity Payment
First Equity Payment was established to provide automotive Agents and Dealers the most profitable marketing and distribution outlet for biweekly payments with F&I customers with service in 49 States (1 Pending). First Equity Payment processes contracts, ensures compliance have been reviewed, and has been featured in over 40 Automotive State Associations speaking engagements and events.
CEO Guy Manasse has more than 20 years of Dealer experience with over 10 years in automotive technology. For more information about Agent and Dealer opportunities, please call 817-909-2517 or Guy(at)1FEP.com. Visit the website at http://www.1FEP.com