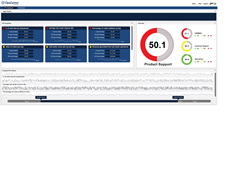 'OpsCenter InfiniView provides decision making support through actual insights – it's more intelligent business analytics,' said Marc Hayden, gen-E CEO.
Nice, France (PRWEB) May 09, 2016
gen-E®, a leading global provider of advanced analytics, and service assurance software, is debuting its business intelligence platform OpsCenter InfiniView this week at TM Forum Live! – one of the largest global gatherings of digital business and IT leaders. OpsCenter InfiniView goes deeper and broader than current advanced analytics software by combining and analyzing data across an entire business and comparing it against thousands of industry best practice key performance indicators (KPIs). The automated results and recommendations are presented via a real-time dashboard view to help leaders make better decisions, improve efficiency, and gain full insight into the health and performance of their business.
To help business leaders sort through the tsunami of corporate data, OpsCenter InfiniView analyzes aggregated data and adds context to the data streams on how it impacts each other. This provides a top down business perspective on what is happening in the environment and the reasons behind it to see how and what needs to be done to adjust the KPI.
"Though advanced analytics has certainly accelerated digital transformation initiatives of some companies, current market solutions stop at providing visual representations of data, leaving much of the heavy lifting of analysis to department heads and business leaders," said Marc Hayden, gen-E CEO. "OpsCenter InfiniView provides decision making support through actual insights – it's more intelligent business analytics," added Marc.
gen-E, a recent TM Forum award nominee for Outstanding Contribution to Enabling Improved Customer Centricity, has been enabling digital business transformation since its founding more than fifteen years ago.
gen-E will be demonstrating OpsCenter InfiniView in Booth 226 at TM Forum Live! from Monday, May 9th through Thursday, May 12th. Also during the show, gen-E CEO Marc Hayden, along with Patrick Kelly, Appledore Research Group Founder and Principal Analyst, will present "Love Your Silos: Manage Legacy Network Silos with Control & Insight" at IT Transformation Live! on May 11th, 2:20 p.m. - 2:40 p.m.
gen-E has been a member of the TM Forum since 1999 and has driven standards in the telecom industry and beyond that, helps companies move operations and processes from analog to digital. Launching the follow on to their flagship gen-E OpsCenter software at TM Forum Live! is testament to gen-E's strong customer base both in the telecommunications sector as well as large enterprise.
About gen-E
gen-E is a leading advanced analytics and service assurance software and professional services company for service providers and companies with large, complex networks. We enable our clients to dramatically reduce costs, improve efficiency and deliver higher quality service by providing greater visibility, control and automation of their operational systems.
gen-E is a part of the Lotus Innovations Fund portfolio of enterprise technology companies focused on provided Enterprise IT Professional services and products as SaaS-based solutions to a wide range of industries worldwide.
About Lotus Innovations
The Lotus Innovations Fund™ is a private equity fund that builds wealth for its investors by acquiring, transforming, and exiting high-potential, small to mid-size technology companies in enterprise IT and telecom. Our proprietary Lotus Methodology™ as well as a leadership team with a combined six decades of tech and business experience help grow our Portfolio Companies and build wealth for our investors.