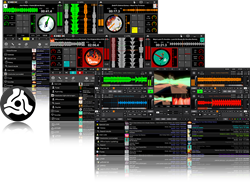 "Now everyone can be a DJ with DEX 3 LE" says PCDJ General Manager Ryan Sherr.
Clearwater, FL (PRWEB) May 09, 2016
The PCDJ software product previously called RED Mobile 3 is now DEX 3 RE (Red Edition), keeping continuity amongst the brand's software lineup. DEX 3 RE and DEX 3 have also been upgraded to 3.6, a no cost update for existing DJs that own previous iterations.
"When we helped jump-start the Digital DJ revolution back in '98 we created a no cost DJ player called PCDJ PHAT, which brought in millions of downloads and became the go-to media player of choice for DJs and consumers all over the globe," says Digital 1 Audio's General Manager Ryan Sherr. "Our new DEX 3 LE (Limited Edition) is our first completely free DJ software application since then, and we're truly pumped to bring mixing digitally to the masses once again. Now everyone can be a DJ with DEX 3 LE. Unlike PHAT, we've also included Pulselocker support so DEX 3 LE users can utilize the DJ-centric music subscription service if they choose." Sherr Continues "Along with the launch of DEX 3 LE we've revised our DJ software lineup, with the product previously known as RED Mobile 3 now named DEX 3 RE (Red Edition). It's the same great live performance software for mixing music DJs have been using for the last decade, just with a new name that provides more continuity to the DEX brand."
The new, revised PCDJ lineup consist of DEX 3 LE (Limited Free Edition), DEX 3 RE (Red Edition for mixing music) and DEX 3 (flagship software for mixing audio, video and karaoke). All three tiers have been upgraded to 3.6, introducing a few new features and many under-the-hood performance improvements and upgrades. One notable item is the inclusion of the latest Pulselocker SDK, which improves searching Pulselocker massive catalog of 44 million songs from the browser.
Here are some of the notable features and/or improvements included in versions 3.6:

Updated and enabled Pulselocker for both Mac and Windows (new 1.2 SDK)
Ability to link video files automatically to audio tracks (from a user-selectable videos folder, random video selection is available too) - Note: DEX 3 (full version) only.
Ability to load video files without an audio stream/track - Note: DEX 3 (full version) only.
Fixed link video files to audio for Pulselocker tracks - Note: DEX 3 (full version) only.
Fixed loading of MP4 files that are actually audio-only (some MP4s with album artwork were loaded by mistake as video tracks) - Note: DEX 3 (full version) only.
Video tab/panel added to the settings. - Note: DEX 3 (full version) only.
Automatically start Pulselocker searching after the user pauses entering text in the search text field (no need to manually press Enter)
Automatically configure audio for controllers (if the controller script implements it) + setting to disable/enable it
New controller actions and notifications for sampler
Fixed microphone problems with various DJ controllers
Automatically enable On-Air when Talk is used
Completely refactored the file loading system (including multiple bug fixes)
Multiple performance optimizations
Various bug fixes
DEX 3.6's manufacturer's suggested retail price is $179. DEX 3 RE (Red Edition) suggested retail price is $109. DEX 3 LE (limited Edition) is no cost DJ software.
Pulselocker is also a no cost trial for 14 days. Two tier options are: $19.99 (Streaming and unlimited offline tracks) and $9.99 (Streaming only).
For more product information and no cost evaluation version of DEX 3 or DEX 3 RE please visit: http://www.pcdj.com/
Visit http://www.pcdj.com to download DEX 3 LE.
For more information about Pulselocker and integration with PCDJ please visit: http://www.pcdj.com/pulselocker/
For Digital 1 Audio marketing or dealer inquiries, Contact:
Digital 1 Audio
611 S. Ft. Harrison Ave., #317
Clearwater, FL 33756
877-999-7235 ext 105
rsherr(at)pcdj(dot)com
Recommended System Requirements:
Windows: 7, 8, 8.1, 10
MAC: OSX 10.8 or higher
2.5GHz Intel Core 2 Duo / Core 2 Quad / Core i3/i5/i7 / AMD Phenon
4 GIG RAM or Better
Video card: Dedicated graphics card with at least 512MB RAM or Intel HD 4000 series or better
DirectX/ASIO compatible multichannel soundcard (Mac: multichannel Core Audio soundcard)
200 MB free on the hard-drive
Since 1999, Digital 1 Audio/PCDJ has been recognized as a leading developer and manufacturer of DJ and Karaoke live performance software. More than 80,000 professional DJs around the world now spin with their computer using one of company's entertainment products.