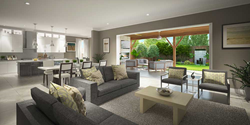 "Buyers are awestruck by the stunning 16-foot telescoping wall of glass in the great room giving way to seamlessly integrated indoor | outdoor living typically only available in the most expensive resort style homes"
Concord, CA (PRWEB) May 08, 2016
Over the past 10 years as Baby Boomers, one of the largest demographics, hits retirement age and become empty nesters, there has been an increased demand for a specific residential product type to accommodate this stage in their life. Responding to this demand, Bay Area based homebuilder, Lenox Homes, has been on a mission to build small infill enclaves and housing products that meet the very specific needs of these buyers. Daniel Freeman, President of Lenox Homes and his team, set up focus groups and listened to hundreds of downsizers and the message was clear, "we are ready for an exciting new chapter of life and we seek a very particular lifestyle." Additionally, Lenox Homes learned that these buyers have worked hard over decades to raise their families, develop friendships, and build businesses and lives they loved entrenched in their home towns.
During the past few years, as these buyers have looked to simplify their lives and downsize to a home that met their needs, they found very little to choose from. Now that their children had started their own families, a search for simplification of lifestyle and the opportunity to enjoy the finer things in life was paramount. The main priorities have become single level living (preferably new), upscale finishes, indoor/outdoor entertainment, and an ability to lock the door and travel. Historically, options have included remodeling 40-year-old houses or moving hours away from friends and family to remote retirement areas. Developers typically build these age restricted projects far from urban centers where city approvals are easier and land prices are lower. Lenox Homes found that people didn't want to go to those remote places and set out to design a community to meet this need and enable this generation of homebuyers to stay in their hometowns.
Lenox Homes also learned that this new simplified lifestyle demanded "no stairs", open floor plans, large luxurious living spaces to entertain family and friends, low maintenance yet functional yards and innovative space designs that integrated indoor/outdoor living, instead of buyers settling for current residential inventory with its dated floor plans and energy inefficiencies. In addition, Freeman knew each home in this product line would need to incorporate home automation and the latest in technology advances available through robust network hubs, producing a functional and just plain cool experience. Finally, it is essential for this demographic to be centrally located with quick access to health care, transportation and urban centers filled with opportunities to shop, dine and be entertained while remaining close to family and friends.
Construction is now underway in Lenox Homes' latest phase of homes in Concord, CA at Laurel Ranch. This limited edition enclave of luxury homes is set in one of the most Zen-like enclaves in the bay area, at the end of a private cul-de-sac in a country setting where you can still see cows grazing on the nearby hillsides in Concord, Ca. While enjoying this tranquility, these spectacular single level new homes are conveniently located just minutes to John Muir and Kaiser Hospitals, BART, the downtown areas of Concord, Walnut Creek and Clayton and top rated De La Salle and Northgate High Schools. Phase One of Laurel Ranch is introducing an innovative 2,650 square foot, 4 bedrooms, 2.5 baths, open plan design with optional configurations for a Parlor or Den in place of the 4th bedroom.
"Buyers are awestruck by the stunning 16-foot telescoping wall of glass in the great room giving way to seamlessly integrated indoor/outdoor living typically only available in the most expensive resort style homes", says Michael Carreno, President of PresGroup Realty, Laurel Ranch's Sales Brokerage. "You might think this chic home was in the heart of an urban center but actually, Laurel Ranch simply offers the best of both worlds.
Lenox Homes has clearly hit the mark again and has designed a product to meet a highly discerning homebuyer's needs with this one of a kind luxury single story residential living experience not found anywhere in the Bay Area. Read about Lenox Homes in the news.
For information on the upcoming Release of Phase 2 of Laurel Ranch Estates, please visit our website at: http://www.livelenox.com. You may also contact the Laurel Ranch Sales Team by calling (877) 678-3370.
About: Lenox Homes identifies "Main Street" communities with convenient access to quality, neighborhood schools, charming downtown environments, established neighborhoods and vibrant town amenities to create new home enclaves that creatively meet the needs of the market and the community. Sales and Marketing by PresGroup Realty BRE# 01870326.