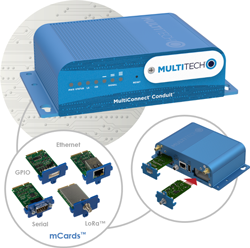 Mounds View, MN (PRWEB) May 09, 2016
MEDIA ADVISORY
FOR IMMEDIATE RELEASE: May 9, 2016
Contact: Jennifer Costello, for MultiTech, Phone: + 781-715-4870
Email: jennifer(at)mgresults(dot)com
Live product demonstrations with leading partners, incorporating MultiTech's newest IoT technologies at IoT World, Santa Clara Convention Center, May 10-12
DEMONSTRATIONS:
Gemalto (Booth 412): Demonstrates a Gemalto "Trusted Key Manager," (a new state-of-the-art network security solution providing LoRaWAN™ key provisioning and authentication for trusted identity and end-to-end security for connected devices to IoT applications). Connecting from the MultiConnect® mDot™ (a LoRa Alliance Certified, LoRaWAN™ RF module) and MultiConnect® xDot™ (the first embedded hardware-based security on a LoRaWAN end point module), through the MultiConnect Conduit LoRaWAN™ gateway to the Senet network, the first and only public provider in North America of Low Power Wide Area Networks. Showcasing enhanced security to the very edge of "Low-Power, Wide-Area Networks."
Stream Technologies (Booth 217): Shows possibility for agricultural organizations to optimize agricultural yield and minimize water waste in both horticulture and animal husbandry, using Low Power Wireless Access Networks. The MultiConnect® mDot™ (a LoRa Alliance Certified, LoRaWAN™ RF module) Evaluation Board (mDot EVB) is connected to Soil moisture, Light and Temperature sensors reporting real time activity through the Stream Technologies IoT-X platform to a Telit IoT Portal dashboard application.
Scriptr.io (Momenta Partners Booth 731 and Stream Technologies 217): Scriptr.io is demonstrating an integration of Stream Technologies IoT-X platform and MultiTech's MultiConnect® Conduit™ LoRaWAN gateway. Scriptr.io is a powerful cloud-based or on-premise IoT application development platform that allows developers and integrators to build elegant IoT applications that benefit from cloud scalability and JavaScript simplicity.
Spirent (Booth 926): Exhibits soil moisture sensors read via an Arduino based platform using MultiConnect® mDot™ (a LoRa Alliance Certified, LoRaWAN™ RF module), to send data to the MultiConnect® Conduit™ LoRaWAN gateway. A Node-RED visual tool is used to format and send the data to a Grove Streams platform for presentation. The Tweakker OTA APN and its interface for management is used to push different profiles to the Oasis Smart SIM card to show which Sims are connected to which service.
myDevices (Booth 913) Displays myDevices' Cayenne drag-and-drop IoT project builder, a rapid prototyping tool that dynamically displays live data streams from connected devices and features the MultiConnect® mDot™. Live demonstrations showcase luminosity, temperature, and pressure readings from an mDotBox in France alongside data from a wide array of connected devices.
About MultiTech
MultiTech designs, develops and manufactures communications equipment for the industrial internet of things – connecting physical assets to business processes to deliver enhanced value. Our commitment to quality and service excellence means you can count on MultiTech products and people to address your needs, while our history of innovation ensures you can stay ahead of the latest technology with a partner who will be there for the life of your solution. For more information, please visit http://www.multitech.com.
MultiTech Press Contact:
Jennifer Costello, MG Communications
Tel: 781-715-4870
Email: jennifer(at)mgresults(dot)com