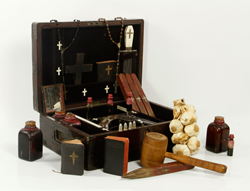 Beverly, Massachusetts (PRWEB) May 09, 2016
Kaminski Auctions presents a two-day Spring Estate auction May 21 and May 22, 2016. The first day features ephemera formerly from the collection of Eleonora Randolph Sears of Prides Crossing, Beverly, Massachusetts and Palm Beach, Florida.
Eleonora Randolph Sears was a prominent socialite from Boston's North Shore, and a great-granddaughter of Thomas Jefferson. Raised in wealth and privilege she was acquainted with Eleanor and President Theodore Roosevelt and for a time dated a Vanderbilt heir.
One the leading woman athletes of the 20th century, Ms. Sears was a champion tennis and squash player and all round horsewoman and horse breeder, as well as the first woman polo player to play on a men's polo team.
Her accomplishments include being inducted into the International Tennis Hall of Fame, elected to the US Show Jumping Hall of Fame and the first female national squash champion, as well as coach of the U.S. Women's International Squash Team.
The collection includes fascinating photos, prints, and diaries of her life, a photo album of her brother Frederick Sears III's expedition to Greenland and as well as Harvard team and Porcelain club photos.
An estate auction follows the ephemera collection with an important abstract landscape by Claude Venard (French, 1913-1999), oil on canvas being the top lot of the day. Measuring 38 inches high by 50 ½ inches wide, and with provenance from the Edgardo Acosta Gallery, of Beverly Hills, California, it is estimated at $10,000-$20,000. Other artists represented in Day One include American artists Aaron Shattuck (American, 1832-1928), Willy Heeks (American, b. 1951), and Moses Soyer, as well as a Dutch landscape of cows by Johan Frederik Cornelis Scherrewitz (Dutch, 1868-1951).
Sunday, May 22nd features the lifetime collection of Mark Avner of Delray Beach, Florida and Buffalo, New York as well as a Marietta, Georgia estate and several California and Massachusetts estates.
One of the more interesting lots of the sale is a rare mid-19th century vampire slaying kit, with a hand made brass plate inscribed "Nosferatu. The unusual kit includes two crucifixes, assorted Bibles, two sets of rosary beads, eight bottles of holy water, a hand forged knife with bone handle, a wooden mallet with wooden stakes, a pin fire pistol, garlic, six silver bullets, and a mirror. Measuring 6 inches high by 17 inches wide and 11 ½ inches deep, the kit it is valued at $15,000-$25,000.
There is an extensive selection of fine art from such notable artists as Gustave Loiseau, (French, 1865 -1935), George Morland (English, 1763-1804), and John Herbert Evelyn Partington (American British, 1843–1899) who exhibited at the Royal Academy. There is also a rare portrait of Marilyn Monroe commissioned by Joe DiMaggio inscribed "Vincenzi New York 1954 by Agostino Vincenzi.
Jewelry features an 18 carat white gold and diamond "Riviera" necklace, with 118 graduated round brilliant diamonds, the largest approximately 1.0 carats, and total diamond carat weight of 18.30 CTW, measuring 16 ½ inches in length, it is estimated at $12,000-$14,000. There is also a 18 carat white gold chain with a fancy yellow pear shaped brilliant cut diamond pendant valued at $8,000-$10,000, an 18 carat white gold diamond and natural Burmese sapphire ring valued at $8,000-$10,000 and a 18 carat white gold and diamond ring with a 2.45 CT oval brilliant cut center stone, surrounded with .53 CTW of smaller white round brilliants also valued at $8,000-$10,000.
Furniture and decorative art highlights include a late 19th century fantasy furniture suite of a settee, side chair and plant stand with daisy and pansy carved silver and gilt wood estimated at $7,000-$12,000, an 18th century carved English mirror with gilt wood having a center plumed shell crest flanked by winged serpents over a floral and foliate basket estimated at $10,000-$15,000 and a highly decorative pair of 19th century French Napoleon I torchieres in gilt bronze standing 62 inches tall valued at $15,000-$25,000.
Ascended from the original buyer since 1819, a Lord & Goddard Hepplewhite tall clock, numbered #112, with a moon phase dial, and weights, key and pendulum crosses the block with a $10,000-$15,000 estimate. Similar examples of this clock are featured at Winterthur and the Bennington Museum.
Along with the vampire slaying kit the more unusual entries from the Avner collection include a Koken barber chair with Congress hydraulic movement, an American rare barrel organ of rosewood with inlaid mahogany and satinwood, a ventriloquist dummy in a suitcase and a coin operated, polyphone cylinder music box with a walnut carved crest.
Porcelain featured in the sale includes an important Chinese Qing dynasty red dragon moon flask, Meissen, Sèvres and KPM porcelain, as well as art glass by Daum Nancy and Walter Nancy and several leaded glass lamps.
Preview for this exciting auction will be held at the Kaminski Auction gallery at 117 Elliott Street, Rt. 62, Beverly, Massachusetts, Wednesday– Friday, May 18-20 and days of sale starting at 8:00am for more information go to http://www.kaminskiauctions.com and sign up to bid online with KaminskiLIVE.