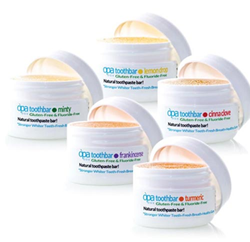 C. Norman Shealy, M.D., Ph.D. - Highly Recommends Opa Toothbars - as 'Unequivocally the World's Best Toothbrushing Agent', 'No need for any mouth wash or any other tooth cleanser!'
Springfield, MO (PRWEB) May 10, 2016
Teeth Soap - Natural Toothpaste – Opa Toothbars™
Lately there has been a lot of buzz on the internet about soap for teeth. Dr. Norman Shealy, founder of the American Holistic Medical Association and one of the world's leading experts in pain management, recently gave a strong recommendation for Opa Toothbars™ – teeth soap – on his weekly radio show.
Shealy, respected world-wide for his innovative and successful rehabilitation approach in over 30,000 patients, has long prescribed brushing teeth with soap, rather than toothpaste. The reason, according to Shealy, soap prevents gingivitis, which is caused by bacteria lodged in the gum pockets.
Shealy said on KWTO - April 7, 2016, "There is a better way to brush your teeth, it is with a tooth soap Opa (O-P-A) Toothbar. It's the finest thing in the world to brush your teeth. I like the turmeric; the turmeric has a great deal of extra antioxidants effects but there are other flavors. Far better, far less expensive than toothpaste and cleans your teeth; cleans, cleans, cleans your teeth better than any toothpaste in the world- Opa Toothbar."
About Opa Toothbars™
When Amy Savvenas co-founder of Opabox™, an accomplished herbalist, set out to create an alternative to her old, store-bought toothpaste, she wanted a natural toothpaste that would fight plaque and tartar without the fluoride, triclosan and foaming agents that are so common.
"This is what toothpaste should be," Savvenas said. "It's not a paste, but a flavorful, light, soap-based teeth cleanser. Get a really clean mouth, while having peace of mind."
The ingredients in each Opa Toothbar™ are chosen specifically for well-known healing properties. For instance, lemongrass is helpful in treating infections, reducing bacterial growth and boosting the nervous system. Turmeric has antiseptic, anti-inflammatory, neuroprotective, antioxidant, and detoxifying effects. Tea tree oil is known for promoting oral health. There's also clove, owyhee, frankincense, peppermint and cinnamon, all known for beneficial healing properties.
Experts say that using xylitol can help repair damage to the enamel by preventing bacteria from sticking to the surface of the teeth. And since xylitol does not break down like sugar, it helps maintain a neutral pH level in the mouth.
So when thinking of changing toothpaste consider teeth soap instead. Thanks to a unique combination of Xylitol and other natural ingredients, the Opa Toothbar™ a solid flavorful soap lasts three times longer than normal toothpaste.
Opa Toothbars™ are available at Mama Jeans, NormShealy.com, AzureStandard.com, Amazon, HyVee's, and online at https://opabox.com.