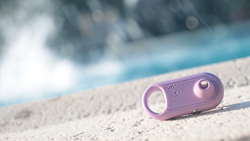 Sunscreenr not only shows you where you've missed a spot when applying sunscreen to yourself or your kids, more importantly it shows where sunscreen has worn off or faded after swimming or any outdoor activities.
Raleigh, NC (PRWEB) May 09, 2016
Sunscreenr™, a revolutionary device that enables consumers to see sunscreen as they apply it to themselves, family, and friends, today launched on Kickstarter.
Using patent-pending technology, Sunscreenr makes sunscreen immediately visible, allowing the user to quickly see if full coverage has been obtained and when it is time to reapply because sweat, sun, or toweling-off has worn away protection. Never again will sunscreen application and reapplication be a guessing game.
"We designed Sunscreenr to protect our own families," say Voxelight founders Dave Cohen and Jon Meyer. "Each of us has watched family members struggle with skin cancer. We wanted to create a way to better protect our children and ourselves from sun damage."
With May being Skin Cancer Awareness Month, Cohen expects that Sunscreenr will be extremely popular with parents, outdoor enthusiasts, and anyone who wants to protect their skin from the Sun's dangerous UV rays.
"While sunscreen can significantly reduce our chances of getting skin cancer, most people only apply about 25 to 50 percent of the sunscreen they need, and since sunscreen is clear after application, there hasn't been an easy way to know when to reapply it…until now," said Cohen. "With Sunscreenr, we've taken powerful imaging technology used by scientists and re-imagined it in a simple device that makes it easy to see if your skin is protected."
After applying sunscreen, a person looking through Sunscreenr will see dark areas that are covered – along with light areas that aren't covered and are still vulnerable to sunburns, sun spots and other forms of sun damage. "Sunscreenr not only shows you where you've missed a spot when applying sunscreen to yourself or your kids, more importantly it shows where sunscreen has worn off or faded after swimming, hiking, running or any outdoor activities," Cohen said.
Louise Twiselton, M.D., a Greensboro, NC pediatrician, says "We all know that UV rays are harmful to skin, in any exposure. Sunscreenr appears to be a great potential solution to help parents ensure their children are well protected from the sun. I will tell my patients' parents to consider Sunscreenr as a complement to their sun care regimen."
Sunscreenr is rugged and compact, measuring less than three-by-two inches in size, water- and sand-proof, and features a long battery life. If a user applies sunscreen to themselves, Sunscreenr also allows them to record a short video, and then replay it, to see if any areas have been missed.
Cohen says Sunscreenr will be made available in other color options, beyond its original purple. Also planned is an offer for a full Sunscreenr SUN KIT that will feature Sunscreenr along with a beach bag, beach mat, sunscreen, lip balm, and water bottle.
"Although most people would predict Sunscreenr to be extremely popular in resort cities and sunny states like Florida and California, a recent study by the Centers for Disease Control found there are actually more cases of melanoma recorded in states like Delaware, Vermont and New Hampshire," Cohen said. "With Suncreenr being so easy to use, and sun protection so important, we expect that people everywhere will support our product launch to further protect themselves from skin damage with Sunscreenr."
Sunscreenr is available now for pre-order at heavily discounted early bird prices on Kickstarter. For more information and to pre-order visit: https://www.kickstarter.com/projects/sunscreenr/sunscreenrtm-is-your-skin-protected
Suncreenr's crowdfunding campaign runs through late June.
About Voxelight
Founded by CEO David Cohen and Jon Meyer, who have a combined forty years of management, design, and product development experience, Voxelight's mission is to create innovative, technology-based products that use underexplored properties of light to create meaningful products for consumers. Voxelight is based in Raleigh, North Carolina. For more information, visit http://www.voxelight.com.