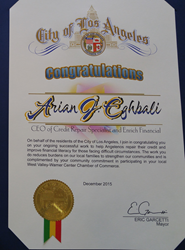 I am humbled that you have given me your support, and it's a responsibility that I take very seriously. I never want to let you down. ~ Hillary Clinton
Los Angeles, Ca (PRWEB) May 10, 2016
Enrich Financial CEO Arian Eghbali has received recognition from Democratic presidential candidate Hillary Clinton. A recent letter from Clinton showed appreciation for the support offered by Arian J. Eghbali.
According to Arian Eghbali, Clinton's stance on economic reform is critical to people across the nation. For instance, Eghbali openly hails Clinton's focus on empowering the middle class, providing financial assistance for working women, and preventing another financial crisis.
At Enrich Financial, Arian Eghbali and his team of financial experts offer leading credit repair services for consumers who are facing financial hardship. Some of these services include real estate, financial planning, and judgment collections solutions, as well as a six step method for building strong, healthy financial situations.
Arian Eghbali and Enrich Financial have received other recognitions for their services to the community, and they are proud to have received the recent letter from Clinton.
In her letter, Clinton said, "Arian, I am ready to do what it takes - and I want to know you're standing with me." She also elaborated, "Each time I take that debate stage, I think about what this election is all about: You. I am humbled that you have given me your support, and it's a responsibility that I take very seriously. I never want to let you down."
Clinton's political accolades include serving as the 67th United States Secretary of State from 2009-2013, and she served as a United States Senator from New York from 2001-2009.
Arian Eghbali is among financial experts who support the Clinton campaign. Arian Eghbali feels Clinton takes a tough stance on economic reform while while focusing on the people of the United States, and she's highly focused on not letting her supporters down. "She is ready to do what it takes to win the election and make her supporters confident to stand with her," said Arian Eghbali.
Arian Eghbali believes Clinton is also committed to standing for the future of women and all other Americans. "She never gives up on what she believes in and serves as a great role model for ambitious women," commented Arian Eghbali CEO of the Enrich Financial office of Credit Repair Specialist .
Arian believes that Clinton's motives are aligned with the goals at Enrich Financial. His team is dedicated to helping people capture financial health and has committed to this objective since 2008. More information can be found at the Enrich Financial office of Credit Repair Specialist.
About Enrich Financial
Enrich Financial was founded by Arian Eghbali to deliver elite credit repair services for consumers facing financial trouble. Enrich Financial is a proud member of the Valley Chamber of Commerce. Arian Eghbali Enrich Financial Hailed As the Number 1 Credit Repair Company By Raji Rab.
For more information about Enrich Financial, fill out a form at: http://www.enrichfin.net or call 800 610 4575.
Aside from this Congressional Recognition, Enrich Financial has also received several recognition for its services and tireless efforts in the field of credit repair. One of the most recent, and possibly most humbling, is a letter citing the company and CEO Eghbali's services from U.S. President Barack Obama.
Contact
Arian Eghbali
Enrich Financial office of Credit Repair Specialist
18653 Ventura Blvd. #107
Tarzana, CA 91356
Phone: 800-610-4575
Website: http://enrichfin.com/