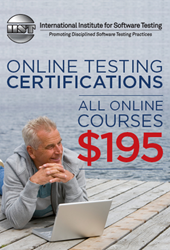 Regardless of these major budget cuts, project teams must continue to receive the high quality training they need for companies to remain competitive and to meet customer demands for more complex systems
Minneapolis, Minnesota (PRWEB) May 10, 2016
"Our goal is to provide the software quality and testing community both national and internationally with the highest quality training in most convenient and most cost-effect manner," said Dr. Magdy Hanna, Chairman and CEO of the International Institute for Software Testing (IIST), a world-leader in Software Testing training, software testing certifications, and software quality training. "We recognize that training and travel budgets have been cut everywhere. We have not seen that much cut in training and travel budget in our 20 year of business."
"Regardless of these major budget cuts, project teams must continue to receive the high quality training they need for companies to remain competitive and to meet customer demands for more complex systems," adds Dr. Hanna.
The International Institute for Software Testing has been providing software testing training and software testing certifications to thousands of software professionals in hundreds of companies and government organizations world-wide since 1999.
"Because of those major cuts in travel budget, organizations are now leaning more towards online training as an a reasonable cost-effective alternative to getting software teams trained while maintaining an uninterrupted release schedule," said Dr. Hanna. "When projects are using agile approaches, it becomes almost impossible for project teams to find time between sprints to get any training."
"That is why, IIST has recently increased the number of courses available online to more than sixty courses and reduced the cost per course to $195," said Hanna.
The price reduction recently announced by IIST is only during the month of May 2016, according to IIST management. To receive the discount, customers need to use promocode "PRWEB195"
"Although professional certifications help software professionals get recognized among their peers, we only support education-based certifications, where a person receives formal training that helps him or her succeed in their project, over exam-based certifications, where a person gets certified merely by passing and exam or attending an exam-preparation course," says Dr. Hanna. "The value of any professional certification is in how it helps software teams become more efficient and capable of meeting the challenges of today's competitive market."
The international Institute for Software Testing started providing education-based certifications to the software quality and testing community since 1999. As of today, IIST has nine different types of software certifications covering every aspect of software quality and testing.
"For project teams that can accommodate training into their release schedule, IIST now has totally customized training that can be conducted at customer sites to eliminate the need for the team to travel and to provide training that is most relevant to the team based on their projects," said Dr. Hanna. "Project teams can now select from over 100 courses to schedule at their own locations."
The International Institute for Software Testing (IIST) is an educational and professional development organization in the field of software testing, software quality assurance and software testing certifications. IIST is the largest provider of software testing training in the world. IIST was founded 1999 to advance the software testing and quality assurance professions by promoting and recognizing professionalism through education-based software testing certifications, and software testing conferences. IIST is led by it Chairman and CEO, Dr. Magdy Hanna under the guidance of the IIST Advisory Board.