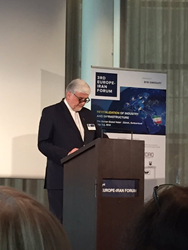 "To succeed in Iran, international firms have no choice but to invest heavily in training, skills transfers and capacity building." Suggested Aseyeh Hatami, the founder and Managing Director of IranTalent.com
(PRWEB) May 10, 2016
Zurich, 10 May 2016 – As the race to enter the newly opened Iran market gains momentum, European multi-nationals are starting to grapple with the practical realities of setting up and operating profitably in the country, according to speakers attending a major Iran business conference held in Zurich last week.
The 3rd Europe-Iran Forum, attended by over 400 senior executives, heard from the leadership of major European firms as well as Iranian state-owned and private sector firms.
Mehdi Karbassian, Chairman of IMIDRO, a major state-owned holding company active in the mining sector in Iran, compared the gradual re-emergence of the Iranian economy to a recovering patient and warned against expecting too much too soon. "A sick man recovering has to start with a soup, before he can eat a steak... After 12 years of sanctions, the Iranian economy needs time to fully get back to normal."
Other speakers alluded to the practical challenges faced as Iran re-enters the global economy, notably in the area of human capital. "When we started our business 13 years ago, 80 percent of our clients were multinational companies," said Aseyeh Hatami, founder and Managing Director of IranTalent.com, the largest online recruitment firm in Iran. "Now they represent less than 20 percent. Most left Iran due to sanctions. As a result, the pool of candidates with experience of working in multinationals is extremely limited, but all foreign companies now entering Iran are fighting to get their hands on this small pool of talent." Hatami suggested that to succeed in Iran, international firms have no choice but to invest heavily in training, skills transfers and capacity building.
Jeroen van der Veer, Chairman of Phillips Electronics and ING Group, and former CEO of Royal Dutch Shell who was involved in major investments in Iran, also highlighted human capital as one of the key challenges facing foreign firms in Iran, describing the Iranian workforce as "high on education, and low on training".
Representatives from several European and Iranian law firms highlighted the legal challenges facing companies, both on staying clear of the remaining sanctions, as well as navigating Iran's own domestic law and legal system. Navid Rahbar-Sato, Managing Partner at Vozara, an Iran-based law firm, told the audience that a key challenge for international firms entering Iran is securing legal protection for their intellectual property and trade secrets.
The conference also saw representation from the US State Department. Jarrett Blanc, part of the senior team overseeing implementation of the Iran nuclear deal, said it was not surprising that companies faced challenges when entering a new market and these challenges were part of the reason for slower than expected investment, not just the US banking sanctions, a complaint increasingly aired by Iran.
Addressing the audience of European business leaders, Jarrett said "I want to ask you to be honest with your Iranian counterparts [about the practical challenges]… Don't take the easy way out, by just saying 'U.S. sanctions, U.S. sanctions, U.S. sanctions'"
Many participants disputed this view, however, maintaining that US banking sanctions remained the biggest unresolved barrier to the opening of the economy. An audience member representing an Iranian firm told Jarret "Our banking partners in the Gulf states are perfectly happy to work with us, but they are under pressure from their US correspondent banks not to process Iran transactions. As a result, we cannot even transfer funds between two bank accounts which are both in our own name."
Similar concerns were raised by European firms. Commenting on the impact these restrictions were having, Majid Ghassemi, president of Iran-based Bank Pasargad, told Reuters on the sidelines of the conference "It is against the benefits of European investors, this kind of barrier that the Americans have put up against the banking system in Europe."
Despite the challenges raised, the overall mood remained positive and extremely upbeat, with one senior European business leader speaking at the conference describing the Iran opportunity as the "fastest new market opening I have ever seen".
For enquiries, please contact:
Media Relations, http://www.IranTalent.com
Tel: +98 21 2277 7704
Email: m.yousefi@irantalent.com