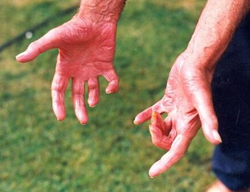 "Affected patients and their families are encouraged to enroll in the IDDB study, for this and future generations." - Leslie Rosenthal, Administrator, DDSG
Naples, FL (PRWEB) May 10, 2016
The Dupuytren's Disease Support Group (DDSG) announced an upcoming "Coffee Talk" on Sunday, May 15, at 1:00 pm EST. The forum will feature key opinion leaders in the fields of both hand surgery and radiation oncology.
Dupuytren Disease is a genetic condition characterized by nodules and cords in the palm, which may lead to permanent contracture of fingers as they bend into the palm. Ten million Americans suffer from this disease and more worldwide. People over 50 are most affected. Treatment options include radiation therapy for early stages, minimally invasive needle aponeurotomy, Xiaflex injections and more invasive surgery. Despite treatments, contractures return and repeat treatments are less effective and have higher risks. There is no cure for Dupuytrens, which results in crippled hands in those with aggressive disease despite the best treatments by expert physicians.
Dr. Charles Eaton, executive director of the Dupuytren Foundation will be joined by Dr. Gopal Bajaj, Chief of Radiation Oncology at The Inova Dwight and Martha Schar Cancer Institute. The doctors will discuss how the IDDB can lead to groundbreaking treatments for patients who suffer from Dupuytrens and related diseases.
Dr. Eaton explained, "Dupuytren disease is frustrating because it seems unpredictable and impossibly complicated. It's not. It's just not yet given up its secrets, partly because it hasn't been studied using the right tools, partly because frustration makes people doubt that anything can be done. Confidence is fleeting; that's why we must have faith - and the courage to forge new paths toward a cure."
"This study can really help in the battle with this baffling condition," Dr. Bajaj said. "Genomics and biomarkers will pave the way to a better understanding of the complex physiological processes underlying Dupuytren's and Ledderhose diseases. Dr. Eaton's work with the Dupuytren's Foundation is on the forefront of unlocking these mysteries and their mission will better allow patients to make more informed decisions," he added.
The stages of the International Dupuytren Data Bank include:

Gather stories and blood tests of 10,000 people with severe, mild and no Dupuytren disease
Analyze this data to identify Dupuytren biomarkers.
Use biomarkers to quickly identify the effect of possible treatments of Dupuytren disease.
To enroll in the IDDB go to: http://dupuytrens.org/homepage/
About DDSG and Coffee Talks
Coffee Talks are open to members of the Dupuytrens Disease Support Group closed Facebook Forum. The forum is open to Dupuytren's and related conditions patients, treating medical providers,researchers and family members of patients.Request membership here: https://www.facebook.com/groups/879351412113444/
For more information http://www.dupuytrensdiseasesupportgroup.com.
Contact:
Leslie Wieslander Rosenthal
240.328.0848
Source: Dupuytrens Disease Support Group