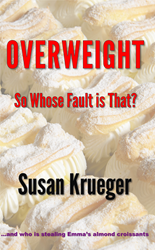 If healthcare providers finally lose patience with the food industry we could see the phrase 'sugar poisoning' find its way into medical dictionaries
Cambridge, UK (PRWEB UK) 10 May 2016
The before and after pictures are prerequisites for any company promoting a diet plan. But like those of champagne-drinking couples holding oversized lottery cheques, the 'it could be you' message is misleading. The winners are outnumbered by those who either fail to lose weight or, if they do, regain it shortly after the programme ends. This is one of the problems encountered by Emma in Susan Krueger's book Overweight – So Whose Fault is That? ISBN 978-0-9540977-2-1. The book paints a picture of the food and diet industries from the viewpoint of someone who finds a healthy diet is incompatible with her hectic lifestyle. Emma is organising a conference on diet and nutrition; the debate on the platform and her own struggle to lose weight illustrate why dieting alone will not halt the obesity epidemic. She discovers why her diet programme failed, that her trust in readymade meals is misplaced and realises nothing will change until the food industry is reformed.
Cambridge-based nutritionist Susan Krueger points out that while food companies and retailers are constantly criticised for oversupplying products which are neither healthy nor nutritious, they refuse to accept responsibility for the growth in the number of people who are obese. "Diet plans are part of this denial," explains Krueger, "it perpetuates the myth that our problem with food is solely one of a lack of self-restraint and obscures fundamental issues such as unhealthy ingredients, portion sizes and over-promotion."
The book describes the media's growing obsession with all things food related. "The dieting industry has formed a symbiotic relationship with a food sector which itself accounts for 7% of the UK's GDP," says Krueger, adding, "Given the combined marketing budgets of food producers and diet plan companies, it is little surprise promotion of both has become almost ubiquitous in publications aimed at women. As a result, the discussion over the future of our food has become both disjointed and one-sided. My aim in writing the book was to describe the debate we should be having about the food industry and the nation's diet."
Krueger, who runs her own weight management and nutrition practice, feels the healthcare sector is being left to deal with a situation over which it has no control. However, she believes the NHS will eventually become both unwilling and unable to deal with the increase in patients suffering from obesity-related diseases. "If healthcare providers finally lose patience with the food industry we could see the phrase 'sugar poisoning' find its way into medical dictionaries," she says.
Krueger says improving our diet will require a multi-agency approach. "We have to include not only food manufacturers but retailers and employers," she explains, adding, "The pace and structure of the working day in the internet age mitigates against a healthy diet. Ultimately both employers and employees would benefit from having this problem fixed."
Using a short novel to popularise the issues we have with the food we eat, Krueger aims to dispel the myth created by diet plans that being overweight is largely the fault of the individual.
Overweight – So Whose Fault is That? ISBN 978-0-9540977-2-1 is available in paperback, price £7.99.
SUSAN KRUEGER is a nutritionist researching food chain efficiency and resilience. She advises organisations on ways to improve the diet and wellbeing of their customers and employees and has developed the YourFoodForLife programme which helps individuals and organisations develop a healthy relationship with food.